Powering Up
Jack Graham, Author
Wednesday, June 17, 2009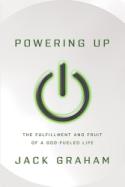 Jesus would tell his disciples, "These works that I have done, you will do, and greater works than these, you will do."1 Can you imagine how stunned they must have been when they learned that all that Jesus had done was only the beginning and that they would be doing something even "greater"? This is the heartbeat of the book of Acts, which is simply a series of great works or "acts" that bear testimony to the power of the church when its people are fueled by dunamis. Even today the great works persist: whenever the sun shines on a corner of the world, it shines on someone preaching the gospel. Wherever the moon casts her beams, she illuminates someone saying a word for God. Twenty-four hours a day, seven days a week, the good news is being proclaimed. What joy this must bring our Father!
The Ultimate Before and After
What was true for those believers gathered at Pentecost remains true for us today: when the Holy Spirit infiltrates a human life, dunamis power starts to flow. And its first objective is accomplishing the renovating work of transformation. Spirit-led believers experience this transformation as they move from emptiness to fullness, from failure to faith, and from fear to courage. The end result? It's the ultimate before and after.
From Emptiness to Fullness
Immediately after the trio of sensory miracles on the day of Pentecost—sound, sight, and speech—Acts 2 says that the apostle Peter preached a powerful message to all who were gathered, culminating with a crystal-clear invitation to have their spiritual emptiness filled with Jesus Christ. "Repent and be baptized every one of you in the name of Jesus Christ for the forgiveness of your sins," verse 38 says, "and you will receive the gift of the Holy Spirit."
People wanted to know what to do to be saved, what to do to have their lives transformed. "Repent!" Peter exclaimed. "Turn from the direction you were headed, and start walking a new path. Stop sinning, follow Jesus Christ, and the Holy Spirit is yours."
I still can't read those words without getting choked up because I remember all too well what my life was like before I turned from the direction I was headed and started walking a new path. You're reading the words of a man who knows he's saved. I've done exactly what the Scriptures tell us to do in responding to the invitation to repent and receive Christ, and as a result the Spirit of God circulates through me, testifying that I belong to him and securing me in my faith. The fullness of God's presence and power does not come through good deeds. It does not come through church membership. It does not even come through growing up in a godly family. It comes, my friend, only through salvation in Christ.
From Failure to Faith Transformation also means moving from failure and defeat to faith and spiritual fire. The believers at Pentecost lacked faith. They lacked fervor. They knew their past sins well and wondered if God could ever use people like them, given their significant track record of failure. I can certainly relate. On more than a few occasions I've asked God the question, "Is it really possible that I can achieve your mission when I'm this far from being perfect?"
So many believers stay planted on the spiritual bench because they have failed God in some way and wonder if the infraction will leave them permanently sidelined. They have lackluster prayer lives. They're enslaved to habits they cannot break. They're in bondage to sin they cannot shake. They can't control their thought life, they can't control their mouths, they can't control their morals, they can't control their appetites. They're living in defeat and at great distance from the God who created them and loves them, constantly teetering on the brink of spiritual despondency because they don't realize that with God's presence comes his promise to renew us day by day, to fire us up moment by moment. Regardless of our past. Regardless of our sin.
Recently on Spiritual Life
Have something to say about this article? Leave your comment via Facebook below!
advertise with us
Example: "Gen 1:1" "John 3" "Moses" "trust"
Advanced Search
Listen to Your Favorite Pastors