Powering Up
Jack Graham, Author
Wednesday, June 17, 2009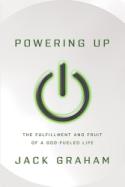 God chooses to use the foolish in this world, failures and sinfulness and all, in order to shame the wise. He empowers us, he equips us, he tasks us, and he gives us great success, all for the purpose of showing himself strong. He provides strength in the midst of struggle, joy amid mourning, love to fend off fear. Think about this with me for a moment: when God uses people like you and me who are utterly undeserving and unworthy of being used, and he accomplishes magnificent things through us, who do you suppose gets the glory? God does!
When we as God's people realize a measure of success in ministry, it is never due to our talents or abilities or wittiness or exceptional planning. Success always flows from God's hand, and God's alone. It is "not by might, nor by power," Zechariah 4:6 says, "but by my Spirit, says the LORD of hosts."
When I was a young seminary student, the church I served in Ft. Worth had a great revival. It was amazing! People came to Christ left and right, and those of us who witnessed it were floating on a spiritual high like none we'd ever known. The next day I walked into my evangelism class, taught by a man I greatly admire to this day, Dr. Roy Fish. He asked me how I was doing, and I responded with a puffed-up chest and a hefty dose of piety ,"We're all rejoicing in this incredible revival we had over at the church!"
To my surprise, Dr. Fish wasn't impressed. His gaze searing my eyes, he said, "You'd better rejoice in the Reviver, not in the revival." He turned to head toward his lectern as I nodded silently and sort of slumped off to the back row.
I was a bit humiliated, but Dr. Fish was right. Our spiritual victories must always be credited to the only One worthy of our praise—the great reviver and transformer of our failures, Jesus Christ.
From Fear to Courage
From emptiness to fullness, from failure to faith, and finally, from fear to courage—transformation's work accomplishes them all.
As I mentioned, immediately following the astonishing impartation of the Holy Spirit, Peter began to preach with boldness previously not possessed. This is the same Peter, mind you, who had denied Christ on three separate occasions. But because of the Spirit's transforming ways, a wimp was turned into a warrior for God.
Later on Peter and John were arrested and were beaten to within an inch of their lives and were told never to speak in the name of Jesus again. In Acts 4:13 city officials who observed the boldness of Peter and John admitted that these men must have had an encounter with Christ. How else could untrained and unintelligent men be so courageous and bold? That's a question only the Holy Spirit can answer. So how does such transformation take place? Where is the relevance to us today? Let's keep going.
Transformation for Today
On any sports team, it's the coach's responsibility to outline a strategy, come up with a game plan, and empower the team to execute it. One of my all-time favorite coaches is the late, great Tom Landry, who served for nearly three decades as head coach of the championship-rich Dallas Cowboys. This beloved brother in Christ was a faithful man who used his professional platform to share Jesus with as many people as possible. One day a reporter asked Coach Landry, "How do you do it? How do you keep producing winning teams year after year? How do you take a group of individuals with their own agendas and forge them into a unified unit, building them into a team that wins so consistently?"
Tom Landry replied, "My job is to get men to do what they don't want to do in order to achieve what they always wanted to achieve." Of course, what football players wanted to achieve always involved winning a championship title or a Super Bowl victory. And many, many times Tom Landry prepared his team to do just that.
Recently on Spiritual Life
Have something to say about this article? Leave your comment via Facebook below!
advertise with us
Example: "Gen 1:1" "John 3" "Moses" "trust"
Advanced Search
Listen to Your Favorite Pastors