Powering Up
Jack Graham, Author
Wednesday, June 17, 2009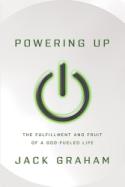 Jesus knows how to prepare his team to win, too. While he was still here on earth, it was as if he huddled his team around him and said, "Guys, you only need to know two plays to power up and make this thing called life work well: wait, and go."
Play #1: Wait
The first thing Jesus asks his players to do is to wait. "Do not depart from Jerusalem," he told his disciples in essence in Acts 1:4, "but wait for the coming of the Spirit." In response to their Lord's request, the disciples waited, but not idly. Rather, they did what nobody would expect a rough, tough, manly group of men to do—they hosted a prayer meeting! A hundred and twenty of them gathered in an upstairs room and waited for God's Spirit to come.
We are wise to do the same. Before we engage, we must disengage. Before we rush out, knocking things over and tearing things up for Jesus, we must be sure that the Spirit of God is filling and fueling our lives. Before we go, we must wait.
Play #2: Go
But there was a second part to the game plan. When Jesus rallied his team for the big game, he said, "You will receive power when the Holy Spirit has come upon you, and you will be my witnesses."2
"My witnesses"—that's the mission you and I have been given. And no matter what age we may be in the faith—a rookie believer or a veteran—we are responsible to carry out the mission of Christ. Even a senior saint is held to this; there is no such thing as retirement from the work of Jesus. The word retired is not found in Christ's vocabulary. Indeed, we are witnesses of great things: we know of our Lord's death and his burial, we know of his resurrection, we know of the transformation that has occurred in our lives. And this is the message we are entrusted to share, a message we'll explore further in Chapter 6.
Ready to Power Up?
There is no human explanation for what happened in those early days of the church as the Holy Spirit revolutionized and revitalized reluctant men and women, transforming them into bold, brave-hearted witnesses for Christ who would cause the gospel to explode throughout first-century Jerusalem. The events of the book of Acts are only explicable in terms of God's propensity to take common men and women and accomplish highly uncommon things, all in the name of powering up. These followers were committed to sharing the gospel of Christ and to living lives worthy of their calling. And with God's power, they did just that.
Maybe you are one who wonders, "How do I live out this thing called the Christian life? How can I be part of changing the world for good?" Or maybe you're one who isn't so concerned about changing the world quite yet; you barely got yourself out of bed this morning. Either way, it's likely that more is in store for you than the life you're living today.
If you want to be distinguishable from the world in which you live, if you want to know true worship—elevating, uplifting, God-honoring worship that is unencumbered by your sin, if you want to be a light in your corner of the world, if you desire a new beginning, the kind of power that makes everything strong and clear once more, a good, swift spiritual reboot, then it's time to power up. God's promise of power is not just for someone else—it is for you. Believe that God really can (and will) fill you with great power. Believe that he can and will use you to accomplish uncommon things. And then ask him to invade your personality and to grow your faith.
You'll be a better man or a better woman because of it. You will begin to obey God's commandments rather than living in rebellion. You'll have the power to do it! You'll start winning life's battles. The struggles that you are facing in your home, in your family, in your marriage will still be there, but you will have the spiritual power to deal with them. You'll have all that you need to live a godly life and to build Christlike character in you. You will experience the fruit of the Spirit. Do you know what it feels like to have patience or joy ooze right out of you? You stand there, knowing for sure it's not you who's conjuring up that thing. It must be God! And in that moment you realize that divine transformation indeed is running its course.
Recently on Spiritual Life
Have something to say about this article? Leave your comment via Facebook below!
advertise with us
Example: "Gen 1:1" "John 3" "Moses" "trust"
Advanced Search
Listen to Your Favorite Pastors