Praying with Women of the Bible for National Day of Prayer
Eva Marie Everson, Contributing Writer
Thursday, April 29, 2004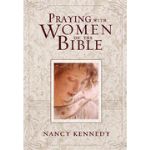 Welcome to "The Cross & the Pen," Crosswalk.com's author-to-author interview column. Having good friends is wonderful. Having friends who know about and then write about the subject of prayer—one of my personal favorites—is even better! Nancy Kennedy is a friend like that. She's zany when we're just shooting the breeze (and she likes shopping) but when it comes to talking about prayer, well, that's when she gets very serious. Recently, we got together and talked about her newest book, Praying With Women of the Bible (Zondervan). Wanna listen in?
Eva: Nancy, The National Day of Prayer is coming up – May 6, to be exact. We are encouraged to pray for the government, media, education, church and family. What special need do you feel called to pray for or about?


Nancy: My heart is for women who are weary in their marriages and in general, trying hard to be all things to everyone around them. My prayer is that they would grasp the limitless grace of God – or more accurately, to allow themselves to know they already are grasped by His grace. God calls us first to rest in Him and then to work, but we often get it backwards! We work, in our marriages and families, trying to take care of everyone's needs until we're too busy and too tired to rest. And that's when we forget about grace and think God's not pleased with us, which makes us work harder, which makes us even wearier. Are you tired yet?
Eva: You've hit the proverbial nail on the head, Nancy. Okay, your book encourages us to pray "with" women of the Bible. You've chosen 10 women. How did you come about picking these 10?
Nancy: I chose those who had a quality I admired. Deborah was "just a woman," yet she was willing to let God use her to lead a nation into battle. Esther showed courage – "If I perish, I perish." Then there were the women whose names aren't even known, but whom God chose as worthy enough to be included in His Word: the woman whose faith drove her to say, "If I just touch His garment, I know I'll be healed," as well as the one who cried out for mercy for her daughter. I think one of my favorites is Salome, the mother of the "sons of thunder." She may have prayed amiss, but she asked Jesus with great boldness to let her sons have a place of honor in His kingdom. That's cool to be so trusting. Salome reminds us that God says we can come boldly into His presence. We're His kids, after all.

Eva: Yes we are. I was just teaching that very topic last night in a Bible study. Our friend, Jennifer Kennedy Dean, has written a book about the power of Christ's blood and that because of it we can boldly approach our Heavenly Father. What a real shame, Nancy, that so many of us don't recognize that gift He has given to us! Here's another issue, Nancy. So many of us don't know about listening…. How can an ordinary person, like Deborah or Salome, listen for God's responses to our prayers?
Nancy: It's hard to listen! You have to be still, and that doesn't come easily, at least not for me. I think, too, that the more we're convinced that the Father is good and kind and accepts those who are in Christ with the same devoted passion He has for His Son, then listening becomes easier. We trust those whom we know love us deeply. So, the key to listening is letting ourselves be loved. 
Recently on Spiritual Life
Have something to say about this article? Leave your comment via Facebook below!
advertise with us
Example: "Gen 1:1" "John 3" "Moses" "trust"
Advanced Search
Listen to Your Favorite Pastors