Praying with Women of the Bible for National Day of Prayer
Eva Marie Everson, Contributing Writer
Thursday, April 29, 2004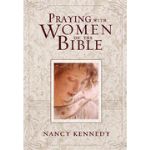 Eva: Why do you think that listening is that just as important as speaking to God?
Nancy: I have two daughters. If they just called home to say, "Hi Mom. Please send trash bags and socks and quarters and cash – oh, yeah, I love you and I'll call you again next week. Bye." I would feel gypped out of the chance to tell them how proud I am of them and that I pray for them and hope their day goes well. With God, if I just leave him my list on an answering machine, then I miss out on hearing Him say what He wants to say to me. And I'm guilty of that! It goes back to believing and trusting that God's not out to scold or shame me – there's no condemnation for those who are in Christ.
Eva: What a great analogy! Nancy, I love it when you said in the book that praying doesn't come easy to you. But you also say you were "surprised by prayer." Talk about that.
Nancy: I am by nature a skeptic. My favorite expression is, "That'll happen when pigs fly." That said, years ago as a new Christian I was attempting to teach my then-toddler daughter about prayer. Actually, I was trying to teach her about "giving money to Jesus." One morning during the mad getting-ready-for-preschool morning rush, I discovered Alison's shoe was missing. So we prayed about it, although I didn't believe God would stop running the universe just to find a little girl's shoe. But I was wrong. Immediately after we said "Amen" Alison ran into my room and pulled her shoe out from under my bed—with a dollar bill tucked inside it. She squealed, "Jesus found my shoe and Jesus gave me money just like I gave Him!"
That still causes me to scratch my head. What kind of God does that? Only ours, who delights in proving skeptics wrong.

Eva: Amen, my friend! Amen. Taking all that, how can we encourage others to make prayer a bigger part of their lives?
Nancy: You can preach and teach and screech, but unless the Holy Spirit leads us into all truth, unless we're convinced that the Father listens and that Jesus is interceding for us and the Spirit enables, unless we realize that prayer is a life line, then it will be no more than a discipline. Not that spiritual disciplines are bad in themselves. But prayer is sacred communion, an intimate encounter. Believing that is what will encourage others to engage in it.
Eva: One last thing, would you offer a two or three sentence prayer for our country?

Nancy: Father, we are broken. Families are broken, I am broken. Marriage itself is on the edge of extinction and in desperate need of Your powerful intervening touch. We are lost without You, Father! Keep our children safe from the enemy of their souls. Bring Your healing to our wayward nation.  
Eva: Amen. Thank you, Nancy.
Nancy Kennedy lives in Inverness, Florida, where she is a features writer for her local newspaper, the Citrus County Chronicle. Her weekly column, Grace Notes, can be read through her Web site www.nancykennedybooks.net.  She is also the author of such books as "Move Over, Victoria—I Know the Real Secret," "When He Doesn't Believe," "When Perfect Isn't Enough," "Prayers God Always Answers" and "Praying With Women of the Bible."

Award-winning national speaker, Eva Marie Everson's work includes Intimate Moments with God and Intimate Encounters with God (Cook). She is the author of Shadow of Dreams, Summon the Shadows and Shadow of Light. (Barbour Fiction) She can be contacted for comments or for speaking engagement bookings at www.EvaMarieEverson.com
Recently on Spiritual Life
Have something to say about this article? Leave your comment via Facebook below!
advertise with us
Example: "Gen 1:1" "John 3" "Moses" "trust"
Advanced Search
Listen to Your Favorite Pastors