Prerequisites For Effective Prayer
Bob Russell
Friday, July 18, 2003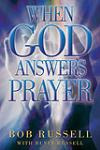 Bob Russell has seen his share of answered prayer.  As senior minister of Southeast Christian Church, where more than 17,000 attend worship services weekly, Russell has seen lost people saved, sick people restored, threatened homes unified and barren wombs opened.  And though he doesn't offer readers "easy steps" to getting what one wants from God, Russell 's new book, When God Answers Prayer, does reiterate one iron-clad principle: prayer works. Through examples, drawn from his own experience, the experience of those in his congregation, and from scripture, Russell's new book leaves readers freshly convinced of the power of prayer.

Rather than teaching the reader how to pray, Russell shares stories to motivate the reader to try prayer in his/her own life. He points to the character of God to reveal how, like a loving father, God is moved by the requests of his children. Following is an expert:

In Jesus' Name
James says a prerequisite to powerful prayers is that they be "in the name of the Lord" (James 5:14).  Jesus said, "The Father will give you whatever you ask in my name" (John 15:16).  There is power in the name of Jesus.  When you pray in Jesus' name, the Holy Spirit intercedes for you.  He knows you better than you know yourself.  He also knows the will of God because he is one with God.  Only the Spirit of God can bring your heart and God's heart together to make something happen that is agreeable to both parties! 

Faith
Jesus said, "I tell you the truth, if you have faith as small as a mustard seed, you can say to this mountain, `Move from here to there' and it will move. Nothing will be impossible for you" (Matthew 17:20).  If you want God to answer your prayer, begin with the confidence that there is a God who created you, loves you and wants to respond to your prayer.  God wants you to come to him with a genuine heart, believing that he is good and has the power to answer your prayer.

Right Relationship With Others
The Bible in 1 John 4:20-21 makes it clear that we cannot have a right relationship with God if we're full of hatred for our brother.  A loving parent wants his children to get along with one another.  Before God grants credibility to your prayers, he wants you to be in harmony with your Christian brothers and sisters.  When you are at odds with another Christian, you are at odds with God, and you are not ready to pray.  Go make things right with your brother, then offer your prayer to God.  Once you have made every effort to restore a right relationship with others, by confessing to them your sins and asking forgiveness, or forgiving their sins toward you, then you can pray with a clear conscience.

Sincerity
Do you pray in your prayers?  A lot of people don't.  They just lazily say religious words and their hearts are never really in their prayers.  Jesus said, "When you pray, do not keep on babbling like pagans, for they think they will be heard because of their many words" (Matthew 6:7).  The pagan worship consisted of repeating chants over and over again to their gods.  They thought there was merit in their droning on and on.  Jesus told his followers that prayer was not to be like that.  Prayer should be an intimate conversation between two beings who care about each other.  God is not concerned with verbosity - he's concerned with intensity.  It's not the length of your prayer or the cleverness of the words, but the sincerity of your heart that matters to God. 

Recently on Spiritual Life
Have something to say about this article? Leave your comment via Facebook below!
advertise with us
Example: "Gen 1:1" "John 3" "Moses" "trust"
Advanced Search
Listen to Your Favorite Pastors