Racism & Katrina: An Unholy Union
Janet Chismar, Senior Editor, News & Culture
Friday, September 16, 2005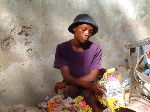 In an open letter to President Bush posted on Michael Moore's Web site, the liberal filmmaker and anti-war activist suggested that the delay in rescuing stranded residents of New Orleans was based on race and class. "It's not your fault that 30 percent of New Orleans lives in poverty or that tens of thousands has no transportation to get out of town," Moore wrote. "C'mon, they're black! ... Can you imagine leaving white people on their roofs for five days?"

According to a report from CNS, the New Black Panther Party accused the government - local, state and federal - of using race as a factor in the recovery efforts. The group said government officials knew "since the 1980s that the levies would fail if a scale four or five hurricane was to hit" the Gulf coast.

Also, the New Black Panther Party said state officials knew "that if a hurricane of this magnitude was to reach the New Orleans area which is 67 percent Black residents, that over 100,000 people would not be able to evacuate due to socio-economic status."
Pastor TD Jakes points out, "The African-American community has been disproportionately hit by this disaster, and so many immediate needs must be addressed. Immediate housing and jobs are needed.  When we begin to rebuild, we need programs in place that motivate contractors to hire residents who have lost their jobs and homes."
"Suffering and pain are common denominators for people. They know no color or bias.


"Many questions deserve to be answered, and it is a conversation that should and will happen in due time. Right now, we must focus on saving lives, and caring for the survivors who have lost everything.  For the sake of the suffering, our nation needs to pull together. There are no overnight solutions to the monumental task before us. But with prayer and perseverance, we'll get through this together."
One black conservative leader says don't blame racism or President Bush for what happened to thousands of black people during and after Hurricane Katrina.

"The truth is black people died, not because of President Bush or racism, they died because of their unhealthy dependence on the government and the incompetence of Mayor Ray Nagin and Governor Kathleen Blanco," said the Rev. Jesse Lee Peterson, founder and president of BOND (the Brotherhood Organization of a New Destiny).

Peterson singled out the Rev. Jesse Jackson, members of the Congressional Black Caucus, and rapper Kanye West, all of whom blamed President Bush for not doing enough to help black people, especially in New Orleans, where TV images showed scenes of desperation and violence that continued for several days after the hurricane hit.

Michael Medved, in his Sept. 12 Beyond The News commentary, wrote, "Of all the irresponsible charges concerning Hurricane Katrina, the worst has to be the allegation that racism caused the apparent confusion in the government's response. Numerous commentators have alleged that if the victims stranded in New Orleans had been predominantly white and middle class, instead of black and poor, authorities would have sent relief days earlier."
It's painful to hear that charges of racism are tampering the response to Hurricane Katrina – and even more painful to consider the issue may lurk in our own hearts.
Recently on Spiritual Life
Have something to say about this article? Leave your comment via Facebook below!
advertise with us
Example: "Gen 1:1" "John 3" "Moses" "trust"
Advanced Search
Listen to Your Favorite Pastors