Regathering: How Family Reunions Remind Me Of Church
Payton Armstrong, Contributing Writer
Thursday, August 12, 2004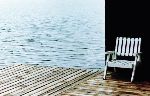 Are you starved by the church, but hungry for God? Our new "Regathering" series, featuring several authors, including AJ Kiesling, will examine the journeys of burned out churchgoers and how they are communing with God and The Body in fresh ways.

Tennessee enjoys distinct seasonal changes, unlike Florida or Alaska. With the exception of summers – long, hot, and humid –each season comes and goes with standard fanfare: vibrant colors of autumn draping rolling hillsides, just enough snow in winter for the annual snowball fight, and spring's April showers that "bring May flowers."
I favor autumn over the other three seasons. Something magical occurs as Creation busily prepares for hibernation. Fall colors cap off an eventful summer in a grand finale fireworks display while clean, crisp air reminds us that the concept of air conditioning didn't originate with man.
Now, though, the summer days swelter with an intensity that even tall shade trees with dense foliage can't beat. Fried chicken and deviled eggs adorn red and white checkered table cloths as crazy Uncle Eddie and kooky Aunt Flo grace everyone with their obnoxious presence at the annual family reunion. "They're different and a little strange, but they're family," we say while biting our tongues before we start a game of horseshoes. "We love them anyway,"
Funny thing, this concept of extended families getting together all at one time.
Despite a blood-is-thicker-than-water commonality where similarities, mutual understanding, and unity would seemingly abound, family reunions often make it painfully obvious that birds who flock together aren't always of the same feather.
That's how I feel at a typical church service. At first, people greet each other with assuming sincerity. Then they go through shallow conversational rituals.
"Hi, how are you?"
"Fine, how are you?"
"Fine, thanks."
"Good."
Or, "Hey, get a load of that hair!" (or lack thereof) snickered to a friend.
Or, "Hey, you kids, no running!"
Or, my favorite I-don't-really-care-enough-to-use-the-phone-to-call-you question of "Wow, has it been that long since we've seen each other?"
Going to church reminds me of going to a family reunion. Especially large mega-churches where form and fashion have superseded substance and sincerity. It's just not appealing anymore. I don't want to do it.
Having spent over two-thirds of my life going to church, I confess that at various stages of maturity, I've been guilty of these same shallow conversational rituals. That's how I know they exist. I've been there. I've lived in the bubble.
And I imagine that if you know what I mean by "bubble" you've been there too. Maybe you still are.
Pop Goes The Bubble
That bubble burst a few weeks after I married my lovely bride several years ago, whom I fell in love with at a mega-church…stage curtain and all. Our friendship developed while spending an enormous amount of time (translated: chronically overcommitted) volunteering with the church's youth group and artistic ministries.
Recently on Spiritual Life
Have something to say about this article? Leave your comment via Facebook below!
advertise with us
Example: "Gen 1:1" "John 3" "Moses" "trust"
Advanced Search
Listen to Your Favorite Pastors