Rethinking Retirement
John Piper, Author
Wednesday, June 03, 2009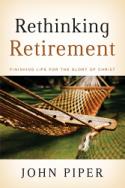 So Raymond Lull was eighty years old when he gave his life for the Muslims of North Africa. Nothing could be further from the American dream of retirement than the way Lull lived out his last days.
Dying to Make Christ Look Great
In John 21:19, Jesus told Peter "by what kind of death he was to glorify God." There are different ways of dying. And there are different ways of living just before we die. But for the Christian, all of them—the final living and the dying—are supposed to make God look glorious. All of them are supposed to show that Christ—not this world—is our supreme Treasure.
So finishing life to the glory of Christ means using whatever strength and eyesight and hearing and mobility and resources we have left to treasure Christ and in that joy to serve people—that is, to seek to bring them with us into the everlasting enjoyment of Christ. Serving people, and not ourselves, as the overflow of treasuring Christ makes Christ look great.
The Fear of Not Persevering
One of the great obstacles to finishing life to the glory of Christ is the fear that we will not persevere in treasuring Christ and loving people—we just won't make it. We won't be able to say with Paul in 2 Timothy 4:7–8, "I have fought the good fight, I have finished the race, I have kept the faith. Henceforth there is laid up for me the crown of righteousness, which the Lord, the righteous judge, will award to me on that Day, and not only to me but also to all who have loved his appearing." The reward of final righteousness will come to those who have loved his appearing, that is, who treasure him supremely and want him to be here. So this treasuring of Christ must be included in and part of the fought-fight and the finished-race and the kept-faith. Faith includes treasuring Christ and his appearing. You don't have faith if you don't want Jesus.
So one great obstacle to finishing life to the glory of Christ is the fear that we can't maintain this treasuring of Christ. And so we fear that we can't bear the fruit of love that flows from faith (Gal. 5:6; 1 Tim. 1:5). We fear that we're not going to make it. And the main reason that this fear of not persevering in faith and love is an obstacle to finishing life to the glory of Christ is that the two most common ways of overcoming this fear are deadly.
Two Deadly Ways to Overcome This Fear
There are two opposite ways to ruin your life in trying to overcome this fear. One is to assume that perseverance in faith and love is not necessary for final salvation. And the other is to assume that perseverance is necessary and then depend on our efforts in some measure to fulfill that necessity and to secure God's favor. Let me show why both these are devastatingly misguided and deadly, and then what is the biblical way of finishing life to the glory of Christ.
Deadly: "Perseverance Is Unnecessary"
It's a mistake to think that perseverance in faith and love is not necessary for final salvation. A deadly mistake. Jesus said in Mark 13:13, "You will be hated by all for my name's sake. But the one who endures to the end will be saved." Hebrews 12:14 says, "Strive for peace with everyone, and for the holiness without which no one will see the Lord."
In Galatians 6:8–9, Paul says, "The one who sows to his own flesh will from the flesh reap corruption, but the one who sows to the Spirit will from the Spirit reap eternal life." So notice that the two reapings are of corruption on the one hand and eternal life on the other hand. Then he says in the next verse, "And let us not grow weary of doing good, for in due season we will reap [eternal life], if we do not give up."
So clearly persevering in the furrows of faith by sowing to the Spirit and bearing his fruit of love is necessary for final salvation. "God chose you," Paul says in 2 Thessalonians 2:13, ". . . to be saved, through sanctification by the Spirit and belief in the truth." "Saved through sanctification" means that sanctification—the path of love—is the path on which saved sinners go to heaven. And it's the only path that leads to heaven.
Recently on Spiritual Life
Have something to say about this article? Leave your comment via Facebook below!
advertise with us
Example: "Gen 1:1" "John 3" "Moses" "trust"
Advanced Search
Listen to Your Favorite Pastors