Rethinking Retirement
John Piper, Author
Wednesday, June 03, 2009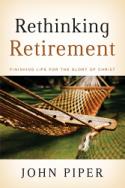 So it is a tragic and deadly mistake to try to overcome the fear of not persevering in old age by saying you don't have to persevere.
Deadly: "Perseverance Puts or Keeps God on Our Side"
But the other misguided way of overcoming the fear of not persevering is just as dangerous. It is the way that says: "Yes, perseverance in faith and love is necessary, and that means I must wait till the last day for God to be 100% for me, and I must depend on my efforts to secure God's full favor. God may get me started in the Christian life by faith in him alone, but perseverance happens another way. God makes his ongoing favor depend on my efforts." That, I say, is deadly and leads either to despair or pride. And certainly not to perseverance.
What's wrong with that? You can see what's wrong if you ask this question: When does God become totally and irrevocably for us—not 99%, but 100% for us? Is it at the end of the age, at the Last Day, when he has seen our whole life and measured it to see if it is worthy of his being for us? That is not what the Bible teaches.
What the Bible teaches is that God becomes 100% irrevocably for us at the moment of justification, that is, the moment when we see Christ as a beautiful Savior and receive him as our substitute punishment and our substitute perfection. All of God's wrath, all of the condemnation we deserve, was poured out on Jesus. All of God's demands for perfect righteousness were fulfilled by Christ. The moment we see (by grace!) this Treasure and receive him in this way, his death counts as our death and his condemnation as our condemnation and his righteousness as our righteousness, and God becomes 100% irrevocably for us forever in that instant.
"We hold that one is justified by faith apart from works of the law" (Rom. 3:28). "Therefore, since we have been justified by faith, we have peace with God through our Lord Jesus Christ" (Rom. 5:1). "There is therefore now no condemnation for those who are in Christ Jesus" (Rom. 8:1). So in Christ Jesus—in union with him by faith alone, by receiving all that he is for us—God is totally, 100% irrevocably for us. And the implications of that are spelled out in Romans 8:31–35:
If God is for us, who can be against us? He who did not spare his own Son but gave him up for us all, how will he not also with him graciously give us all things? Who shall bring any charge against God's elect? It is God who justifies. Who is to condemn? Christ Jesus is the one who died—more than that, who was raised—who is at the right hand of God, who indeed is interceding for us. Who shall separate us from the love of Christ?
And the answer to that question is Nothing! Which means that all those who belong to Christ will persevere. They must, and they will. It is certain. Why? Because God is already now in Christ 100% for us. Perseverance is not the means by which we get God to be for us; it is the effect of the fact that God is already for us. You cannot ever make God be for you by your good works because true Christian good works are the fruit of God's already being for you.
"By the grace of God I am what I am, and his grace toward me was not in vain. On the contrary, I worked harder than any of them, though it was not I, but the grace of God that is with me" (1 Cor. 15:10). My hard work is not the cause but the result of blood-bought grace. "Work out your own salvation with fear and trembling, for it is God who works in you, both to will and to work for his good pleasure" (Phil. 2:12–13). Working out your salvation is not the cause but the result of God's working in us—God's being 100% for us. "I will not venture to speak of anything except what Christ has accomplished through me" (Rom. 15:18). If we are able to do anything by way of obedience, it is because Christ is already 100% for us.
Recently on Spiritual Life
Have something to say about this article? Leave your comment via Facebook below!
advertise with us
Example: "Gen 1:1" "John 3" "Moses" "trust"
Advanced Search
Listen to Your Favorite Pastors