Rethinking Retirement
John Piper, Author
Wednesday, June 03, 2009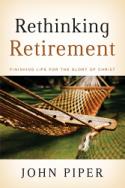 If every exertion you make in the discipline of perseverance is a work of God, then these exertions do not make God become 100% for you. They are the result of his already being 100% for you. He is for you because you are in Christ. And you cannot improve on the perfection or the sacrifice of Christ. If by faith you are in Christ, God is as much for you in Christ as he will ever be or could ever be. You don't persevere to obtain this. Because of this, you will persevere.
So when the fear of not persevering raises its head, don't try to overcome it by saying, "Oh, there is no danger, we don't need to persevere." You do. There will be no salvation in the end for people who do not fight the good fight and finish the race and keep the faith and treasure Christ's appearing. And don't try to overcome the fear of not persevering by trying to win God's favor by your exertions in godliness. God's favor comes by grace alone, on the basis of Christ alone, in union with Christ alone, through faith alone, to the glory of God alone. He is totally, 100% irrevocably for us because of the work of Christ if we are in Christ. And we are in Christ not by exertions but by receiving him as our sacrifice and perfection and Treasure.
Overcoming the Fear of Not Persevering
So what is the right way to overcome the fear of not persevering in old age? The key is to keep finding in Christ our highest Treasure. This is not mainly the fight to do but the fight to delight. We keep on looking away from ourselves to Christ for his blood-bought fellowship and his help. Which means we keep on believing. We keep on fighting the fight of faith by looking at Christ and valuing Christ and receiving Christ every day.
Kissing Away the Fear
Charles Spurgeon said that God kisses away the fear of aging with his promises. Philippians 1:6: "I am sure of this, that he who began a good work in you will bring it to completion at the day of Jesus Christ." First Corinthians 1:8–9: "[He] will sustain you to the end, guiltless in the day of our Lord Jesus Christ. God is faithful, by whom you were called into the fellowship of his Son, Jesus Christ our Lord." Jude 24: "[He] is able to keep you from stumbling and to present you blameless before the presence of his glory with great joy." Romans 8:30: "Those whom he predestined he also called, and those whom he called he also justified, and those whom he justified he also glorified." No one is lost between justification and glorification. All who are justified are glorified. The point of telling us that is to kiss away all fear. If God is for us, no one can successfully be against us (Rom. 8:31).
The Key to Growing Old to God's Glory
Therefore, perseverance is necessary for final salvation, and perseverance is certain for all those who are in Christ. The works we do on the path of love do not win God's favor. They result from God's favor. Christ won God's favor. And we receive him by faith alone. And love is the overflow and demonstration of this faith.
This is the key to finishing life to the glory of Christ. If we are going to make Christ look glorious in the last years of our lives, we must be satisfied in him. He must be our Treasure. And the life that we live must flow from this all-satisfying Christ. And the life that flows from the soul that lives on Jesus is a life of love and service. This is what will make Christ look great. When our hearts find their rest in Christ, we stop using other people to meet our needs, and instead we make ourselves servants to meet their needs. This is so contrary to the unregenerate human heart that it stands out as something beautiful to be followed or something convicting to be crucified.
It works both ways. Polycarp, the bishop of Smyrna, illustrates both and what it may mean for us to finish life to the glory of Christ.
Recently on Spiritual Life
Have something to say about this article? Leave your comment via Facebook below!
advertise with us
Example: "Gen 1:1" "John 3" "Moses" "trust"
Advanced Search
Listen to Your Favorite Pastors