Sabbath Suggestions
LeAnne Benfield Martin
Thursday, January 18, 2007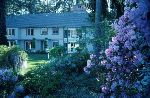 To Do or Not to Do
So many questions arise when we talk about the Sabbath. Which day should it be? How long should it be? Many people choose Sunday as their Sabbath; others observe it on Saturday or, if they work on the weekends, another day during the week. Some start at sundown and finish the following sundown. Others consider waking up in the morning and going to sleep that night as their Sabbath markers. The most important thing is that we try to set aside a whole day so we can rest in and enjoy the time with God.
Other questions include: What should we do? What shouldn't we do? The most important thing to remember is not to let legalism mar our Sabbath experience. There is no perfect way to keep the Sabbath, no list of rules to follow. And when we try to set those up for ourselves (or for others), we miss the freedom inherent in the experience.
Lynne urges people to start small by picking one to three things not to do and then refraining from them for three to six months. Define what constitutes work for you. For her, that list includes housework, yardwork, and home repairs. It also includes anything that she might get paid for or things that she might check off a "to-do list." She suggests that people consider resting from multi-tasking, shopping, technology, the media, competition, and worry. She spends much of her Sabbath time focusing on the beauty around her and thanking God for it.
Along with Lynne, many Sabbath-keepers use their time to read. Mart enjoys reading something spiritually nourishing, such as theology. Judy Gann spends her time in the Word, reading Christian nonfiction books and articles, and in prayer. Another favorite activity of those who observe the Sabbath is taking a walk to enjoy God's creation.
Karen Wingate, whose husband is a minister, says that her family always takes a nap on Sunday afternoons. "Nap time is sacred." If they don't want to nap, her teenage daughters have "quiet hour," during which they rest, read, write letters or do something creative.
JoAnn Wray usually puts a meal in the crock pot the night before, and after church, her family gathers to eat. They talk about the past week, make plans for the week to come, and discuss their schedules. After their meal, they have a special prayer time. They keep a notebook with their requests and God's answers to them. She says, "We have a growing list of answered prayers to review which encourages us to trust God's timing when things seem rough."
Family time like this is often an important part of keeping the Sabbath. When she was a teen, Nancy Ring's father worked often on Sundays for his training as a paramedic. They tried to observe Sabbath time on his off days. "It wasn't overtly spiritual, but it generally involved quiet time and family-focused activities. We not only recharged, we reconnected as a family," she says.
Practices such as these are not rigid standards for everyone to follow but simply ideas to help us envision what our Sabbaths might look like. Judy Gann admits that her perfectionist tendencies might lead her to make her day a legalistic routine, something that many of us would also have to guard against. Instead, she wants to "remain open and sensitive to how the Lord would have me use this time."
Allowing God to direct our time and heeding Jesus' urgings to come away with Him to rest will free us to not only keep the Sabbath but enjoy it. As Jesus said in Mark 2:27: "The Sabbath was made for man, not man for the Sabbath." It's a gift from the Father's hand for His children — our day to be with Him and to enjoy what He has given us.
---
This article first appeared in The Lookout, June 4, 2006. Used with permission.
Freelance writer LeAnne Benfield Martin lives near Atlanta with her husband, her young daughter, and her 12-year-old yellow Lab. Their family's Sabbath time together usually includes taking a nap, watching a family video, playing, reading, and sometimes making a special dinner. LeAnne's work has appeared in many Christian magazines and she enjoys writing about many topics, especially the arts. Check out her blog on Christians in the arts.
Recently on Spiritual Life
Have something to say about this article? Leave your comment via Facebook below!
advertise with us
Example: "Gen 1:1" "John 3" "Moses" "trust"
Advanced Search
Listen to Your Favorite Pastors