Same-Sex Marriage -- Challenges and Responses
Gregory Koukl, Stand to Reason
Friday, April 02, 2004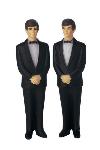 Peter Sprigg of the Family Research Council sums the issue up nicely:
"Gay citizens" already have the same right to marry as anyone else—subject to the same restrictions. No one may marry a close blood relative, a child, a person who is already married, or a person of the same sex. However much those restrictions may disappoint the incestuous, pedophiles, polygamists, and homosexuals, the issue is not discrimination. It is the nature of marriage itself.2
"They said the same thing about interracial marriage."
This challenge has great rhetorical force, but it is a silly objection.
Consider two men, one rich and one poor, seeking to withdraw money from their bank. The rich man is denied because his account is empty. However, on closer inspection, a clerk discovers an error, corrects it, and releases the cash. Next in line, the poor man is denied for the same reason: insufficient funds. "That's the same thing you said about the last guy," he snaps. "Yes," the clerk replies. "We made a mistake with his account, but not with yours. You're broke."
In the same way, it simply is not relevant that the same objection has been used to deny both interracial and homosexual marriage. It's only relevant if the circumstances are the same, regardless of the objection. They are not.
Same-sex marriage and interracial marriage have nothing in common. There is no difference between a black and a white human being because skin color is morally trivial. There is an enormous difference, however, between a man and a woman. Ethnicity has no bearing on marriage. Sex is fundamental to marriage.
This approach won't work to justify polygamous or incestuous unions ("In the past people wouldn't allow interracial marriages, either."). It is equally ineffectual here. The objection may be the same, but the circumstances are entirely different.3
"We shouldn't be denied the freedom to love who we want."
Columnist Ellen Goodman writes, "The state is on shaky ground when it tries to criminalize sexual relations of the consensual living arrangements of adults."4 In San Francisco, a giddy newly "married" lesbian celebrates, "Now we're not second-class citizens; now we can have a loving relationship like every other married couple we know."5 Another opines, "Anybody who is in love and wants to spend the rest of their life together should be able to do it."6 [emphasis added in all]
These remarks reflect a common misconception: Same–sex marriage will secure new liberties for homosexuals that have eluded them thus far. This will not happen because no personal liberty is being denied them. Gay couples can already do everything married people do—express love, set up housekeeping, share home ownership, have sex, raise children, commingle property, receive inheritance,7 and spend the rest of their lives together. It's not criminal to do any of these things.
Homosexuals can even have a wedding. Yes, it's done all the time. Entire cottage industries have sprung up from Hollywood to the Big Apple serving the needs—from wedding cakes to honeymoons—of same-sex lovers looking to tie the knot.
Gay marriage grants no new freedom, and denying marriage licenses to homosexuals does not restrict any liberty. Nothing stops anyone—of any age, race, gender, class, or sexual preference—from making lifelong loving commitments to each other, pledging their troth until death do them part. They may lack certain entitlements, but not freedoms.
Recently on Spiritual Life
Have something to say about this article? Leave your comment via Facebook below!
advertise with us
Example: "Gen 1:1" "John 3" "Moses" "trust"
Advanced Search
Listen to Your Favorite Pastors