See Your Dreams Come True
Whitney Hopler, Live It Editor
Tuesday, June 21, 2005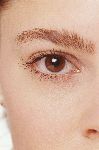 7. The power test.
Understand that power isn't a bad thing in itself. God created us to have power and intends us to use it the way He does - to do good, help people, and make life on Earth better. Try to be a good steward of the authority and responsibility God has given you. Remember that it's what you do with God-given power and blessings that is the true test of your character. If you want God to give you power, first humble yourself before Him. Determine that you will use your God-given power to serve people however you can. Know that doing so moves you closer to your destiny.
8. The prosperity test.
Rely on the fact that God will give you everything you need to carry out His plans for your life. But He wants you to handle your money wisely instead of squandering it through foolish spending. Know that God will test you in how well you handle your finances. Control your money; don't let is control you. Make sure that God - not money - has first place in your heart. Give to God's work on Earth from the first part of each paycheck. Honor God with your money as a way of thanking Him for giving you everything. Avoid get-rich-quick schemes. Wait until you can afford to pay cash for purchases rather than buying them on credit and accruing debt. Live below your means so you can save, give, and invest regularly without the burden of debt. Make a detailed budget and stick to it. Ask God to help you be content, no matter what the current state of your finances. Enjoy the financial freedom that enables you to spend your time in the ways God leads you, which will move you closer to your God-given destiny.
9. The pardon test.
If other people have hurt you, rely on God's help to forgive them and move on. Realize that refusing to forgive will damage your relationship with God, poison your heart with bitterness, and block you from moving forward into your destiny. With God's help, release people from all the charges against them. Don't pursue punishment or revenge. Remember that this is how God forgives you - completely. If you haven't fully received God's forgiveness for your own mistakes, embrace it. Believe that, because of Christ's sacrifice on the cross, God totally releases you from the penalty of your sin when you confess and repent.
10. The purpose test.
Believe that you have a God-given purpose in life. Ask Him to show you your talents and spiritual gifts. Think and pray about what you're good at doing, and what you most enjoy doing - those things are probably related to your talents and gifts. Begin to do those things more and more, and God will reveal more of your purpose to you. Rest in the knowledge that because God is good, He is working for good in every situation in your life. Trust Him as He works in your life. Keep on moving in the direction in which your talents and gifts lead, even though you can't see the specifics of your future. Know that your faithfulness will move you closer to the destiny God has planned for you. Stay faithful, and you will ultimately fulfill your destiny.


---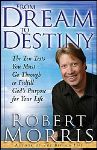 Adapted from From Dream to Destiny, copyright 2005 by Robert Morris.  Published by Regal Books, Ventura, Ca., 1-800-4-GOSPEL, www.regalbooks.com.  
Robert Morris is the senior pastor of Gateway Church in Southlake, Texas. He is a gifted communicator with more than 20 years of experience imparting biblical principles on prosperity and personal growth. Pastor Robert is the author of The Blessed Life, a book that helps readers achieve financial breakthrough. He resides in Texas with his wife and three children.
Recently on Spiritual Life
Have something to say about this article? Leave your comment via Facebook below!
advertise with us
Example: "Gen 1:1" "John 3" "Moses" "trust"
Advanced Search
Listen to Your Favorite Pastors