Simple Steps to Solid Scripture Study
John MacArthur, Grace to You
Wednesday, November 10, 2004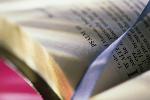 Letting the Holy Spirit be your teacher (1 John 2:27), search the Scripture He has authored, using cross references, comparative passages, concordances, indexes, and other helps. For passages that remain unclear, consult your pastor or godly men who have written on the issues involved.
Step 3 - Evaluating
You have been reading and asking the question, "What does the Bible say?" Then you have been interpreting, asking the question, "What does the Bible mean?" Now it's time to consult others to ensure that you have the proper interpretation. Remember, the Bible will never contradict itself.
Read Bible introductions, commentaries, and background books that will enrich your thinking. As you evaluate, be a true seeker. Be one who accepts the truth of God's Word even though it may cause you to change what you have always believed, or alter your life pattern.
Step 4 - Applying
Jesus made this promise to those who carry their personal Bible study through to this point: "If you know these things, blessed are you if you do them" (John 13:17).
Having read and interpreted the Bible, you should have a basic understanding of what the Bible says, and what it means by what it says. But studying the Bible does not stop there. The ultimate goal should be to let it speak to you and enable you to grow spiritually. That requires personal application.
You must let God's truth penetrate and change your life. Studying Scripture without allowing it to penetrate to the depths of your soul would be like preparing a banquet without eating it. The bottom-line question to ask is, "How do the divine truths and principles contained in any passage apply to me in terms of my attitude and actions?"
If there is a command to be obeyed, obey it. If there is a promise to be embraced, claim it. If there is a warning to be followed, heed it. This is the ultimate step: submit to Scripture and let it transform your life.
Step 5 - Correlating
This last stage connects the doctrine you have learned in a particular passage or book with divine truths and principles taught elsewhere in the Bible to form the big picture. Always keep in mind that the Bible is one book in sixty-six parts, so its truths and principles are taught over and over again in a variety of ways and circumstances. By correlating and cross-referencing, you will begin to build a sound doctrinal foundation on which to live.
Now, get to work! As you dig in to God's Word using those five simple steps, you'll be amazed at the rich treasure your study yields. My prayer is that the Lord will use this plan to revitalize your Bible study, increase your appetite for knowing and understanding His Word, and further conform you to the image of His beloved Son.
Adapted from "How to Study the Bible" in The MacArthur Study Bible. Copyright 1997, Grace to You. All rights reserved.
Recently on Spiritual Life
Have something to say about this article? Leave your comment via Facebook below!
advertise with us
Example: "Gen 1:1" "John 3" "Moses" "trust"
Advanced Search
Listen to Your Favorite Pastors