Sing a Song: Our Exodus Experience
Eva Marie Everson, Featured Writer
Wednesday, August 02, 2006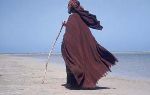 But Moses lived. He was raised by Pharaoh's daughter until he reached manhood. One day he saw an Egyptian beating one of his own people and he killed the abuser. When his sin was discovered he fled to Midian (located in Southeastern Sinai), married a young woman named Zipporah, had children, and worked as a shepherd. In time he stood before God Almighty who ordered him back to Egypt for the purpose of freeing His chosen race from slavery. He returned and the story we know as "The Exodus" occurred.
The Long Way Home
Eventually Pharaoh allowed his slaves to go free. With Moses in the lead (although directly behind the Lord), those who had just been in bondage began on what would be a 40-year trek toward the Promised Land.
Moses and the Lord had a "leadership meeting" of sorts. The Lord said to Moses, "If they face war, they might change their minds and return to Egypt." So God led the people around by the desert road toward the Red Sea.[2] This was most definitely an unlikely route and the long way home.
The Scriptures tell us that God's people were led by the Lord as a pillar of cloud during the day and as a pillar of fire at night, which enabled them to travel both day and night. And though it took those hard forty years, arrival in the Promised Land eventually came for God's chosen ones.
The Ah-ha Moment
When the freed slaves came upon the Red Sea, Pharaoh's army was right behind them, Pharaoh having changed his mind on the whole freedom idea. Though the people were afraid and quite grumbly, God used that which seemed to have them up against a wall (of water, if you will) as the very thing that gave them passage to safety, and took the lives of their enemy.[3]
When the Chosen of God had reached safety, the people sang a song!
I will sing to the Lord for He is highly exalted. The horse and its rider He has hurled into the sea…Who among the gods is like You, O Lord? Who is like You — majestic in holiness, awesome in glory, working wonders? ...In your unfailing love You will lead the people You have redeemed. In Your strength You will guide them to Your holy dwelling.[4]
Recently on Spiritual Life
Have something to say about this article? Leave your comment via Facebook below!
advertise with us
Example: "Gen 1:1" "John 3" "Moses" "trust"
Advanced Search
Listen to Your Favorite Pastors