Skipping & Tripping: Two Takes on 1 Thessalonians 5
Laura MacCorkle & Shawn McEvoy, Crosswalk.com Senior Editors
Tuesday, June 28, 2011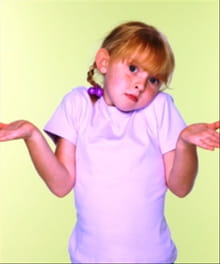 The missionaries on this journey got out of God's way by doing the simple things that God had willed for them to do, so that God was free to let fly with His own big, complex, miraculous will for everyone else. An earthquake shakes open the prison, snapping chains in the process. Prisoners, however, stay where they are. A jailer, about to kill himself, holds his sword, and moments later accepts Jesus into his heart. Then his family joins the flock, all because those he had persecuted chose to "love kindness."
At every step of the journey, Paul, Silas, and their companions chose to walk humbly, give thanks, and do what was just (speaking of which, once officially released, Paul did have some words of justice regarding their citizenship and treatment for the magistrates).
It's absolutely amazing to me the ways that God plans to accomplish His Will (big "W") on earth. His will in my life has already been decided. It is my job to walk humbly, get out of the way, always be in prayer, always rejoicing no matter what situation I'm in. But how often do we come back to the same situation, sitting in my car, simple traffic jam, me needing to be somewhere, telling God, "Did you not ordain that I should do such and such today? Or get this amount of work done so I can spend this amount of time with my family? Then this is on you unless you make such-and-such happen now!"
Sigh... how many miracles have I missed?
No, God's will for my life isn't difficult to know. It's just frustratingly hard to do if self is at the center. And that's the crux of the very question itself, "What is God's will for MY life?"
Perhaps when we get out of the way, we shall see better.
How long will it take to learn the lesson that even if I know I am doing God's will it doesn't mean everything will appear to go smoothly along the way? That there are purposes I either don't know or am unwilling to consider could be a part of inconvenience? If you're like me, start learning today by making note of every story in the Bible that suffers a delay, interruption, inconvenience or other problem before the payoff. (Hint: start with guys like Joseph, and Abraham...)
For more content like this from Crosswalk.com and Christianity.com editors, click here to read / sign up for Crosswalk: The Devotional!
Laura MacCorkle, Crosswalk.com's Senior Entertainment Editor, loves God, her family and and her friends. Singleness has taught her patience, deepened her walk with the Lord and afforded her countless (who's counting anyway?) opportunities to whip up an amazing three-course meal for one. Visit her personal blog here.
Shawn McEvoy is Crosswalk.com's Managing Editor. He holds an M.A. in Writing from Virginia Commonwealth University. He runs several fantasy sports leagues, and enjoys pop culture and the discussion thereof. He is married with two young children.
Original publication date: May 2, 2009
Recently on Spiritual Life
Have something to say about this article? Leave your comment via Facebook below!
advertise with us
Example: "Gen 1:1" "John 3" "Moses" "trust"
Advanced Search
Listen to Your Favorite Pastors