Someone Worth Losing Everything For
David Platt, Author
Wednesday, May 26, 2010

In this book I want to show you that, with the best of intentions, we have actually turned away from Jesus. We have in many areas blindly and unknowingly embraced values and ideas that are common in our culture but are antithetical to the gospel he taught. Here we stand amid an American dream dominated by self-advancement, self-esteem, and self-sufficiency, by individualism, materialism, and universalism. Yet I want to show you our desperate need to revisit the words of Jesus, to listen to them, to believe them, and to obey them. We need to return with urgency to a biblical gospel, because the cost of not doing so is great for our lives, our families, our churches, and the world around us.
As I mentioned previously, I have more questions than I have answers. And every day I see more disconnects between the Christ of Scripture and the Christianity that characterizes my life and the church God has entrusted me to lead. I have so far to go.We have so far to go.
But I want to know him. I want to experience him. I want to be part of a people who delight in him like the brothers and sisters in underground Asia who have nothing but him. And I want to be part of a people who are risking it all for him.
For the sake of more than a billion people today who have yet to even hear the gospel, I want to risk it all. For the sake of twenty-six thousand children who will die today of starvation or a preventable disease, I want to risk it all. For the sake of an increasingly marginalized and relatively ineffective church in our culture, I want to risk it all. For the sake of my life, my family, and the people who surround me, I want to risk it all.
And I am not alone. In the faith family I have the privilege to lead, I am joined by wealthy doctors who are selling their homes and giving to the poor or moving overseas; successful business leaders who are mobilizing their companies to help the hurting; young couples who have moved into the inner city to live out the gospel; and senior adults, stay-at-home moms, college students, and teenagers who are reorienting their lives around radical abandonment to Jesus. I'll introduce you to many of them in the course of this book.
There's nothing special about us. But we're proof that ordinary people who are naturally drawn to the comforts of the American dream can be converted to a radical faith in a radical Savior. Why not join us?
If you are serious about taking this journey, though, I believe a couple of preconditions exist. This goes back to the two big questions I started asking myself when I realized I was a megachurch leader trying to follow a minichurch leader.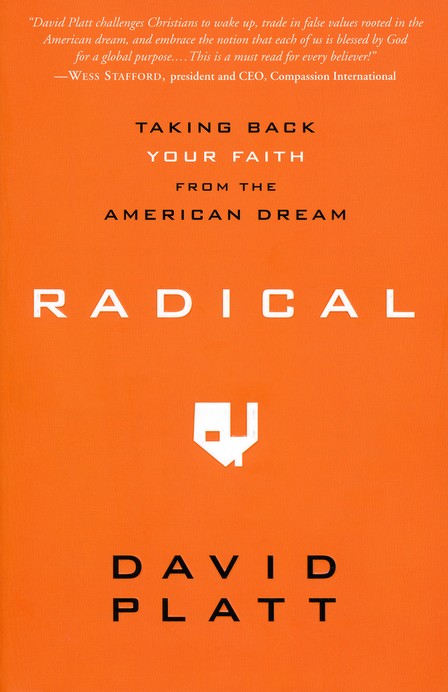 First, from the outset you need to commit to believe whatever Jesus says. As a Christian, it would be a grave mistake to come to Jesus and say, "Let me hear what you have to say, and then I'll decide whether or not I like it." If you approach Jesus this way, you will never truly hear what he has to say. You have to say yes to the words of Jesus before you even hear them.
Then second, you need to commit to obey what you have heard. The gospel does not prompt you to mere reflection; the gospel requires a response. In the process of hearing Jesus, you are compelled to take an honest look at your life, your family, and your church and not just ask, "What is he saying?" but also ask, "What shall I do?"
In the pages to come, we will together explore the biblical gospel alongside our cultural assumptions with an aim toward embracing Jesus for who he really is, not for who we have created him to be. We will look at the core truth of a God-centered gospel and see how we have manipulated it into a human-centered (and ultimately dissatisfying) message. We will see a purpose for our lives that transcends the country and culture we live in, and we will see our desperate need for his presence to fulfill that purpose in us. We will discover that our meaning is found in community and our life is found in giving ourselves for the sake of others in the church, among the lost, and among the poor. We will evaluate where true security and safety are found in this world, and in the end we will determine not to waste our lives on anything but uncompromising, unconditional abandonment to a gracious, loving Savior who invites us to take radical risk and promises us radical reward.
Excerpted from Radical: Taking Back Your Faith from the American Dream, by David Platt (Multnomah Publishers, Inc.). Used with permission.
Have something to say about this article? Leave your comment via Facebook below!
advertise with us
Example: "Gen 1:1" "John 3" "Moses" "trust"
Advanced Search
Listen to Your Favorite Pastors