Standing Firm: Independence Day Reflections
Kelly Minter
Tuesday, July 03, 2007

I can only imagine what would become of the eagles without that special protection. I am very aware of what happens to me when I let down my own defenses, when I decide that protecting my freedom in Christ is simply not worth the effort. I quickly sink into a spiritual lethargy, and all my "natural" responses take over. I forget that I am in desperate need of Christ, and I become selfreliant and self-absorbed. I take offense at things more easily and tend to miss the bigger picture of what God is up to in my life and in the world.
Mostly, I am rendered useless for anything of eternal value. Life begins to be all about me, which is a heavy weight to bear. When I am consumed with my own desires and agendas and am seeking wholeheartedly to fulfill them, then it's entirely up to me to satisfy their demands. I have no other choice; I am responsible for them. This means I end up answering to no one but myself, manipulating others to give me what I need, and overriding what God might have me do simply because I have these "other things" that I am now responsible for. It is a burdensome cycle that is anything but free.
Again, Paul reminds me not to slip back underneath this heavy burden — the yoke of slavery. But this requires a firm stance, a plan of action, and effort on my part. Sometimes I tire of it, but I have to remind myself that I will always be a slave to something, whether to Jesus or to someone or something else. Only slavery to Christ yields freedom; everything else brings bondage.
The servants at the wedding in Cana demonstrate this truth. First, they were obedient when it didn't make sense (filling water pots when they needed jugs of wine). Had they been operating out of their finite understanding, they would never have carried water to the wedding master, knowing he was expecting wine. Second, their obedience was complete — they filled the jugs "to the brim." They carried out their task responsibly and with honor; they did nothing halfway. And, in the end, their reward was full, as they shared in the glorious secret of the wine. But isn't it interesting that the glory of the servants' being part of a miracle and the intimacy of their being in on a secret didn't come by any other means than their being servants of Jesus. Technically, the servers looked like slaves, but in reality they were free. Free to know secrets, free to be part of the mysterious, free to follow, free of themselves. They represent the ultimate dichotomy: They were free servants. Which is what I believe we are all called to be.
This freedom requires that we make a concerted effort to protect our "eagle's nest," though our individual methods will probably look unique to each of us. For me, protection is comprised of many elements: a community I can be honest with, a pastoral couple who looks after me, the prayer and support of family and friends, honest and regular dialogue with Jesus, a surrendering posture before him, along with less overtly "spiritual" things such as exercise and walks in the park, laughter, spending time with children and pets, music, play … and I would like to justify including good pasta somewhere on the list.
I am committed to these things because I am committed to my freedom. I need all of these hedges of protection so that I will not be overly hampered by my self, because there is no doubt that I am my biggest obstacle to freedom. Each one of these protections encourages me to remain focused on Christ. For me, this doesn't mean spending all day every day reading Scripture and meditating. It means that when I get inordinately worried about finances, I call my pastor and let him know I'm discouraged. It means that when I'm overtaken by self-pity, I grab dinner with a friend who will remind me of the wonderful ways God has shown himself faithful to me thus far. It means that when I'm at my wit's end with my own weaknesses and struggles, I quietly (or loudly) pray, pleading for supernatural change. And it also means that when I'm burned out and tired, I go for a run and then gorge myself on rigatoni with pesto and sun-dried tomato cream sauce with pine nuts — which always makes me feel better.
My "liberty list" is ultimately about surrender. It is about holding out my open hands to the Lord, ready to move or stay or lay something down or pick up something new as he leads. It is about being docile in his hands with a childlike trust that, wherever God is leading me, it will ultimately be good. Because it is for freedom that Christ has set me free. Because I want to run and not be weary, to walk and not faint. Mostly, it is because I want to fly with wings like eagles.
For this, I will stand firm.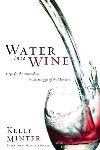 From "Water into Wine." Copyright © 2004 by Kelly Minter. Used by permission of WaterBrook Press, Colorado Springs, CO. All rights reserved.
Kelly Minter is a singer-songwriter who has toured extensively in the contemporary Christian music market. She has released two nationally distributed records, "Good Day" and "Wrestling Angels." Kelly is also a spokesperson for World Vision. She lives in Nashville, Tennessee.
Recently on Spiritual Life
Have something to say about this article? Leave your comment via Facebook below!
advertise with us
Example: "Gen 1:1" "John 3" "Moses" "trust"
Advanced Search
Listen to Your Favorite Pastors