Standing Naked Before God: Sarah
Eva Marie Everson, Featured Writer
Friday, July 21, 2006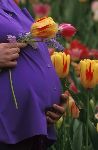 I love ah-ha moments. I expect them literally every time I read from the Word. You see, God is not like man when it comes to what He says. Or, I should say, not like me. He doesn't waste His words. So every book, every chapter, every verse, every word of His Word has been spoken and then written for a purpose.
Would you like to explore one of those ah-ha moments with me now?
Eve: The First Woman, Naked or Not
In my last "ah-ha" article, I wrote about Eve, who stood naked before God, completely unashamed, until that awful moment when — having tasted of the "forbidden" — she stood before Him wearing ill-fitting fig leaves. Though no longer completely undressed, her nakedness was more a condition of her soul than her wardrobe.
Sarah: Can You See My Raw Emotions?
Sarah was the wife of Abraham, the original patriarch. Theirs was an unusual relationship; not only did they share a bed; they came from the same father, Terah.
It was to Abraham that the covenant was made:
"I will make you into a great nation
       and I will bless you;
       I will make your name great,
       and you will be a blessing.
  I will bless those who bless you,
       and whoever curses you I will curse;
       and all peoples on earth
       will be blessed through you."[1]
Later, when the prospects of becoming a great nation were slim, Abraham heard from God again. This time, He said:
A   son coming from your own body will be your heir." He took him outside and said, "Look up at the heavens and count the stars—if indeed you can count them."
Then he said to him, "So shall your offspring be."[2]
No doubt, Abraham informed Sarah. But how could that be, they wondered. After all, Sarah was barren. In all the years of their marriage she'd never once conceived that they (or we) know of. What's more, she was nearing her 75th birthday. Though we know from Scripture that she was beautiful, all the lovely in the world won't make you pregnant. And it takes more than a husband who loves you. It takes an "opened" womb.
What Else is a Woman to Do?
In Sarah's day, having a child was everything to a woman. It was her calling, if you will. There were no great universities from which she could attend and graduate. She wasn't after the ole 9 to 5. She never sang any songs about bringing home the bacon and frying it up in a pan, either. She was a wife and a mother, later to be a widow and a mother. Without that, there was little else.
Recently on Spiritual Life
Have something to say about this article? Leave your comment via Facebook below!
advertise with us
Example: "Gen 1:1" "John 3" "Moses" "trust"
Advanced Search
Listen to Your Favorite Pastors