Suffering and Survival: It's a Question of Who
Dr. Beverly Rose
Monday, July 31, 2006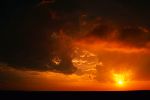 When I first became a believer, I read those words but couldn't understand what Paul meant. In my life, God's grace was necessary but certainly not sufficient for me.  Yet, as I began to walk daily with Jesus, I discovered that He broke into my suffering daily in places that bore the mark of His mighty and loving hand. Jesus sent a loving Christian to help me write my first book when I didn't have money to pay for assistance and couldn't imagine how I would physically accomplish such a monumental task.  By grace, the book was published, even though I was an unknown author lying in a sickbed. It was also by grace that He provided someone drive me all the way from Boston to my new home in Colorado because flying is difficult for me. Whenever I stare into the loving eyes of such amazing friends, I see Jesus lovingly gazing back at me.  That is grace. It is by grace that this failing body finds the strength to pen these words.  And grace when God is palpably present in thin places giving me inspiration and hope.  It is also grace that in the darkness of night, exhausted and in pain from writing, I whisper the name of Jesus, and He comes to comfort me as He did the first moment I came to know Him. It is all by His amazing grace.
Down through the ages, humanity has struggled with the question of why we suffer. I have found the answer not in the why but in the who — Who is not only the very embodiment of God Himself, but also the embodiment of God's love and grace.
When Jesus became the crossroads between this world and the next, everything changed forever. In that remarkable moment in history, God — in Jesus — showed us He loves us by coming to earth. He showed us He cares by becoming one of us. He showed us He understands by sharing our suffering. He showed us His hope for us by dying on a cross, redeeming our sins and giving us assurance of eternity. God gave us all this by the grace of Jesus, in amazing places of thinness. Because of Jesus — the ultimate thin place — we can recognize God's face and see his hand in our lives in thin places all around us.
Such grace is sufficient for me.
---
Dr. Beverly Rose earned a doctorate in clinical psychology and held an academic appointment at Harvard Medical School. Author of Mothers Never Die and So Close I Can Feel God's Breath, Dr. Rose has appeared nationally on radio and television. Raised in the Jewish faith, she is now a faithful follower of Jesus. Despite the daily trials of living with a neuromuscular disease, Dr. Rose experiences great joy and hope in her walk with the Lord. Dr. Rose currently resides in Tucson, Arizona.
Recently on Spiritual Life
Have something to say about this article? Leave your comment via Facebook below!
advertise with us
Example: "Gen 1:1" "John 3" "Moses" "trust"
Advanced Search
Listen to Your Favorite Pastors