The Birth of Jesus Christ: a Great Light
Albert Mohler, President, Southern Baptist Theological Seminary
Wednesday, December 21, 2005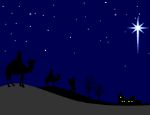 Luther reminded his congregation that most persons know how to rejoice when they are given a Christmas gift. "But how many are there who shout and jump for joy when they hear the message of the angel: 'To you is born this day the Savior?' Indeed, the majority look upon it as a sermon that must be preached, and when they have heard it, consider it a trifling thing, and go away just as they were before. This shows that we have neither the first nor the second faith."

Affirmation Does Not Save

As Luther understood, to hear the Christmas story and to respond with mere interest is an indication of faith's absence. Furthermore, Luther helpfully reminded his congregation that a mere affirmation of the fact that the incarnation occurred is not saving faith. "We do not believe that the virgin mother bore a son and that he is the Lord and Savior unless, added to this, I believe the second thing, namely, that he is my Savior and Lord."
In other words, the message of Christmas is received when Jesus Christ is not merely affirmed as the baby in Bethlehem's manger, but as one's own Savior and Lord.
"When I can say: This I accept as my own, because the angel meant it for me, then, if I believe it in my heart, I shall not fail to love the mother Mary, and even more the child, and especially the Father," Luther continued. "For, if it is true that the child was born of the virgin and is mine, then I have no angry God and I must know and feel that there is nothing but laughter and joy in the heart of the Father and no sadness in my heart. For, if what the angel says is true, that he is our Lord and Savior, what can sin do against us?"
With those words, Luther articulated the majestic faith of Christmas--the faith that saves. When Christmas is rightly understood, we know that God loves us, even as we are sinners who deserve no love. We also understand that this love is demonstrated in the gift of the Son, who would die for our sins and would be raised by the Father in order to secure our salvation.
Thus, a true Christmas is celebrated when we come to understand, to know, to celebrate, and to receive the fact that Jesus Christ is not merely a Savior, but our Savior.
The image of light is central, not only to Christmas, but to Christianity. Jesus said: "I am the Light of the world; he who follows Me will not walk in the darkness, but will have the Light of life." [John 8:12] This is the sum and substance of Christmas. The people who have walked in darkness have seen a great light. Those who have lived in a dark land have now experienced the shining of the Light of life.
---

R. Albert Mohler, Jr. is president of The Southern Baptist Theological Seminary in Louisville, Kentucky. For more articles and resources by Dr. Mohler, and for information on The Albert Mohler Program, a daily national radio program broadcast on the Salem Radio Network, go to www.albertmohler.com. For information on The Southern Baptist Theological Seminary, go to www.sbts.edu. Send feedback to mail@albertmohler.com.
See also the most recent entries on Dr. Mohler's Blog.
Recently on Spiritual Life
Have something to say about this article? Leave your comment via Facebook below!
advertise with us
Example: "Gen 1:1" "John 3" "Moses" "trust"
Advanced Search
Listen to Your Favorite Pastors