The Black Sheep Diaries: Desperately Seeking a Story
A.J. Kiesling, Contributing Writer
Monday, November 08, 2004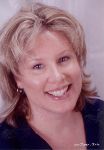 Today I heard the news that left a hole in my heart: The one I used to love has "moved on." Found somebody new. Turned the page in his life. We parted amicably almost a year ago, aware that we weren't meant for each other in the way that spells forever. But still it hurt. Now someone else would gaze into his eyes over dinner. Some other woman would receive his goodnight kiss at the front door. The thought felt like a stone sinking slowly in the pit of my stomach.
Blinking furiously, I strapped on my Nikes and went for a walk. It was dusk out. When I reached the place at the front of my neighborhood where the sky opens up big and broad between the trees, I stopped and stared at the sunset. And in that moment I realized how God must feel, more often than we know. Like a lover turned away. Like a hopeful wooer waiting to catch the eye and heart of one He loves—one who will love Him in return.
In the past few years a gradual awareness has settled over me regarding spiritual realities: We live in an age I call "the return of the bards." After a half-century of evangelism that relied on persuasion and debating skills more than the language of love to win hearts to Jesus, after decades of apologetics that appeal to the mind more than the soul, we've finally got it right.

It's been slow in coming, but at last it feels like we're heading in the right direction again, the direction Jesus pointed us to all those centuries ago when He sat on hillsides and told stories. More often than not, preaching turns people off—the very people, ironically, that we're trying to "reach for Christ." But everyone warms to a story. Stories capture the heart.
Webster's defines bard as "a poet-singer skilled in composing and reciting verses on heroes and their deeds." It doesn't take long to realize that of all the great heroes in literature and lore, Jesus heads the pack. The heroic deed He performed on our behalf has been called the greatest story ever told, and two thousand years later it still holds the power to change hearts the way no doctrinal thesis ever will. After a dearth of "story," our modern-day bards are telling this tale, singing this song, again. In fact it's everywhere we go.
The Christian bestseller lists are filling up with books that speak the language of the soul—and we lap them up, thirsty after our long dry run. We read about the "sacred romance" between Jesus and ourselves, His Bride. We wonder at the metaphor of "God on a dirt road walking toward [us]" and find that Christian spirituality, like good jazz, is "music" that's hard to put on paper but is nonetheless real, meaningful, and beautiful. It's something you feel in your heart more than understand with your mind.
We humans are a thickheaded lot. God wrote down His love story in a book and told us He is a jealous "lover"—desiring our love only for Himself—but we still need constant reminders of just how the story goes, and how beautiful it is. He keeps having to show us again and again through word-pictures. We're like children who need a patient Sunday school teacher to bring out the flannel-graph board one more time so the story can come alive to us again. And He is happy to comply. He went so far as to make a word-picture out of one prophet's life.
Recently on Spiritual Life
Have something to say about this article? Leave your comment via Facebook below!
advertise with us
Example: "Gen 1:1" "John 3" "Moses" "trust"
Advanced Search
Listen to Your Favorite Pastors