The Challenge of Africa
Regis Nicoll, Freelance Writer, Speaker, Worldview Teacher, Men's Ministry Leader
Wednesday, September 20, 2006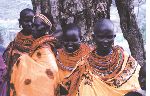 In consideration of these bold, holistic initiatives I asked Bishop Bali what one thing would provide the greatest benefit to his countrymen. His answer: An income-generating enterprise that would enable the diocese to build needed facilities, as well as, maintain and repair existing ones.
You see, unlike churches and ministries in the developed world which are sustained by member contributions, churches in impoverished regions largely depend on support from church and parachurch organizations from outside their country.
Bishop Bali said that while outside support is essential to meet the current ministerial needs of his community, he wants the need for that support to diminish. Emphasizing the industrious and dedicated character of his countrymen, the Bishop said "We are a proud people. We don't want the carrot stick; we want the dignity of being self-sufficient."
A common vision
Common to the vision of Rick Warren and Bishop Bali is that Africa is not a vast region hopelessly held the orbit of First World benevolence; it is a continent of diligent people who want independence both politically and economically.   Achieving those ends will require long-term partnership with overseas churches to provide interim financial support, ongoing spiritual nurture, as well as, business and marketing advice to help African communities establish trade networks for indigenous products and services. 
A small example of what is possible is in Rwanda. There Bishop John Rucyahana and his wife have helped a group of widows from the Rwandan genocide become independent coffee growers. For every bag of coffee sold through the Land of a Thousand Hills Coffee Company, $3 goes directly into the Rwandan economy and $1 to coffee-growing families to help them earn a living wage. The company has its own website and offers a ministry kit for churches who want to become marketing centers for Rwandan coffee.  
Then there is Benita Singh and Ruth DeGolia, recent Yale graduates who are bringing the benefits of global entrepreneurship to another war-scarred country: Guatemala. By organizing village cooperatives, establishing U.S. market outlets and publishing a product catalog, Singh and DeGolia project $600,000, this year, in sales of hand-crafted ceramics, jewelry and textiles produced by women widowed from the Guatemalan war.
Why the church
Some may question the suitability of the local church for this daunting challenge, especially in the area of business acumen.
First off, the local church is uniquely positioned to generate change at the grass-roots level. Worldwide, there are an ample number of congregations so that every African church, village or community could be partnered with a church abroad.
Next, like the ambient culture, the church has members with a rich array of "tentmaking" talents, skills, and expertise. While many congregations lack some of the resources and experience needed by their African counterparts, they can network with other churches to fill the void.
Lastly, because of the Cultural Commission: to care for and enrich creation, and the Great Commandment: to love others, the church is the only organization with a history of long-term devotion to the least and the last. It is a quality that has not gone unnoticed, even by some of its critics.
Recently on Spiritual Life
Have something to say about this article? Leave your comment via Facebook below!
advertise with us
Example: "Gen 1:1" "John 3" "Moses" "trust"
Advanced Search
Listen to Your Favorite Pastors