The Christ of 'The Passion': What the Movie Couldn't Show
Gregory Koukl, Stand to Reason
Friday, February 20, 2004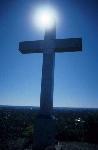 "The Passion of the Christ" is a historically precise, visually stunning, and viscerally moving portrayal of the crucifix­ion of Jesus. Yet the most important detail of Jesus' final hours is not in the film.
What viewers do not see cannot be filmed. While three hours of darkness cloak the cross, a transaction takes place that has been planned since the dawn of time.
This transaction entails a crucial fact obscured by the controversy surrounding the film: Jesus was not a victim. No one took His life from Him. Not Jews. Not Romans. He gave it willingly and purposefully. It was His choice, what He wanted (1 John 10:17-18).  In fact, it was the reason He was born (Hebrews 10:5-7).  From the be­ginning, as predicted in the ancient scrolls, a divine plan had been unfolding.
Though conceived by a miracle, Jesus had humble beginnings. He was born, as the prophet foretold (Micah 5:2),in Bethlehem, in a manger, among lowly people of modest cir­cumstance. Yet there was a persistent testimo­ny in those early days that He was no ordinary child. The statements of the angel Gabriel, Jesus' mother Mary, Zacharias the priest, the heavenly host at His birth, Simeon and Anna in the temple, and the magi all center around one message: Jesus is the very Son of God, the promised Messiah of Israel, and the Savior of the world.
After John the Baptist begins preach­ing in the wilderness, Jesus quietly initi­ates His ministry, yet His time of obscurity is short. Jesus' popularity accelerates and begins to eclipse that of John, who dutifully steps aside, giving Jesus the spotlight.
Soon it is impossible not to take sides. Unconventional from the outset, Jesus challenges both the practices and the prejudices of a religious establishment He openly confronts. This endears Him to the common people who flock to Him in great numbers. He speaks with authority and vigor, investing old truths with fresh, new insight. He works miracles—healing, casting out demons, even raising the dead.

A Growing Phenomenon

Jesus quickly becomes a phenom­enon, inciting curiosity and interest wher­ever He goes. His following grows rapidly, but knowing these loyalties run shallow, He does not entrust Himself to anyone (John 2:24-25).  It will not be long before the masses become disen­chanted. Jesus does not yield to the agenda of any group. Instead, He speaks the truth and lets the chips fall where they may.
The party soon ends. Jesus does not just criticize the leaders; He condemns the people as a whole as wicked and sinful (Matthew 11:20-24).  After miraculously feeding thousands, He laments openly to the masses that they come to Him merely to have their stomachs filled. They do not hunger for the Bread that brings eternal life, Jesus Himself (John 6:1-71).  His listeners respond with shock, disappointment, and de­rision. It becomes clear that following Jesus brings hardship and difficulty, not glory, power, and prosperity. The people turn away from Jesus en masse and most of His disciples depart. Though the twelve remain, one, Jesus notes, "is a devil," portentous of a time of growing opposition that now awaits Him.
Recently on Spiritual Life
Have something to say about this article? Leave your comment via Facebook below!
advertise with us
Example: "Gen 1:1" "John 3" "Moses" "trust"
Advanced Search
Listen to Your Favorite Pastors