The Cross & the Pen: What to Do about Halloween?
Eva Marie Everson
Wednesday, October 29, 2003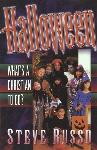 The ancient Celts did put on animal skins and heads as they danced around bonfires on October 31. But there is something more closely linked to modern tradition in the 1930s. Up until that time, October 31 in this country was basically a day of pranks, similar to April Fools Day. The pranks got out-of-hand so civic and government leaders in New Jersey met to discuss the problem. Their solution was to encourage kids in the community to go door-to-door saying "trick or treat' – dressed in a costume – and in turn the neighbors would give them a treat.

Eva:  I went trick or treating and I'll bet you did, too. My children, however, went to church and school carnivals because of what I consider my spiritual enlightenment...and I find I'm not alone. Why are we becoming more aware?

Steve: More and more parents – both Christian and non-Christian – are looking for safe, fun alternatives on Halloween. Part of this is due to the insecurity we all feel in our culture today, which was magnified as a result of 9/11. Parents want their kids to have fun in a controlled environment free from worry. Plus we are seeing a greater number of people in our culture searching for spiritual meaning in life.

Eva:  You give 5 excellent principles for discerning how a Christian should handle Halloween. Will you share the "bottom lines" with us?

Steve: Sure. Here we go:
            1. Not everything is constructive                        1 Cor. 10:23
            2. Guard against unholy practices                      Deut. 18:10-13
            3. Stay focused on what is good & pure            Phil. 4:8
            4. Sidestep all evil                                             1 Thess. 5:22
            5. Be aware of the battle                                   Eph. 6:12

Eva:  You also tell us to "be on guard." How can we do that?

Steve: We need to be aware of the multiple ways that the devil can attack us and influence our thinking. This doesn't mean that we have to be paranoid, just on the alert. 1 Peter 5:8 puts it this way: "Be self controlled and alert. Your enemy the devil prowls around like a roaring lion looking for someone to devour. The bottom line is to be selective what we allow into our minds and not give into the temptation to 'dabble in the darkness.'

Eva: What are our responsibilities as Christians when it comes to Halloween?

Steve: I don't believe as Christians that we should celebrate what Halloween has come to represent in our culture. Instead I think we need to participate in healthy alternatives that give us the opportunity to turn on the light of the Gospel. These alternatives could be as simple as handing out tracks with candy to trick-or-treaters to having a harvest festival at your church.
Recently on Spiritual Life
Have something to say about this article? Leave your comment via Facebook below!
advertise with us
Example: "Gen 1:1" "John 3" "Moses" "trust"
Advanced Search
Listen to Your Favorite Pastors