The Fatherless Generation
Doug Stringer, Somebody Cares
Friday, June 18, 2004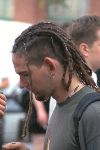 "The highest glory of the American Revolution was this: it connected, in one indissoluble bond, the principles of civil government with the principles of Christianity."  ~~ John Quincy Adams

Every piece of currency issued in America proclaims, "In God we trust." But trusting in God requires much more than lip service; it is a lifetime commitment to follow the Lord, the kind of commitment our founding fathers expected our nation to keep.

They knew the truth of Scripture: Trust in the Lord with all thine heart; and lean not unto thine own understanding. In all thy ways acknowledge Him, and He shall direct thy paths. (Proverbs 3:5-6 KJV)
These principles of trust apply to individuals, churches, communities and nations. God is waiting for our nation to return to these fundamental, foundational principles so the "indissoluble bond" that ties America to Christianity will never be severed.
A Clash of Cultures
The Freedom Forum First Amendment Center at Vanderbilt University points out that a "wide chasm" and an "unhealthy distrust" exist between "two alien cultures… one rooted largely in a search for facts and the other grounded in a discovery of faith beyond fact." The culture of disbelief and the culture of belief are at odds with each other almost to the point of total polarization.
Social scientist James Q. Wilson writes that "the powers exercised by the institutions of social control have been constrained and people, especially young people, have embraced an ethos that values self-expression over self-control." This war has escalated in the academic institutions of our land. One of its bloodiest battlegrounds is found in the minds of our fatherless young people.
In 1940, teachers reported the worst problems in our public schools as being these: talking out of turn; chewing gum; making noise; running in hallways; cutting in line; dress code infractions; and littering. In contrast, by 1990, teachers identified the following problems as being most significant, and these problems continue today: drug abuse, alcohol abuse, pregnancy, suicide, rape, robbery and assault.
Without the leadership of earthly fathers who derive their authority from the heavenly Father, young people today find themselves adrift on a turbulent sea of doubt and confusion. Many have lost sight of the shoreline and have no compass to guide them.
It is time for believers to take the offensive. We must lead society back to God and the Bible. The Apostle Paul stressed the importance of prayer as a weapon to be used in our current cultural conflicts:
Praying always with all prayer and supplication in the Spirit, being watchful to this end with all perseverance and supplication for all the saints. (Ephesians 6:18)
Recently on Spiritual Life
Have something to say about this article? Leave your comment via Facebook below!
advertise with us
Example: "Gen 1:1" "John 3" "Moses" "trust"
Advanced Search
Listen to Your Favorite Pastors