The Fatherless Generation
Doug Stringer, Somebody Cares
Friday, June 18, 2004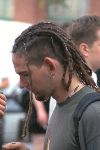 The Foundation of Family
Character-building begins in the home. The biblical pattern is for the father to set the tone for values in the family. By his teaching and example, the father leads his children into understanding the difference between right and wrong. By putting God first in his life, a father teaches his family what godly values and virtues are.
When the character of a man is transformed through Christ, his destiny as well as the direction of his home and family are determined. When the father refuses his God-given responsibility, the absence of direction leaves a void in the family.
Remember, the family is the microcosm of the community, society, and nation. Consider what professor of sociology David Poponoe of Rutgers University points out in "The Controversial Truth: Two-Parent Families Are Better" (The New York Times, December 26, 1992):
"In three decades of work as a social scientist, I know of few other bodies of data in which the weight of evidence is so decisively on one side of the issue: on the whole, for children, two-parent families are preferable…If our prevailing views on family structure hinged solely on scholarly evidence, the current debate would never have arisen in the first place."

The King of Kings
In the face of such discouraging statistics and the negative scenario painted by our society today, the true believer can still take heart. We know our Lord is greater than "the prince of the power of the air" (Ephesians 2:2).
A family can rest in the sense of security provided by a godly father, and a nation can rest in the security of the heavenly Father who guards, guides, and governs in all its affairs. Yet in all these things we are more than conquerors through Him who loved us. (Romans 8:37)
As the Church of Jesus Christ, we can help usher in the revival America needs. Through our commitment, our intercession, and our love, we will see the fulfillment of God's promise given through the prophet Joel: And it shall come to pass afterward that I will pour out My Spirit on all flesh; your sons and your daughters shall prophesy, your old men shall dream dreams, your young men shall see visions. …And I will show wonders in the heavens and in the earth… . (Joel 2:28-30)
What a glorious day that will be!
This article is adapted from Doug Stringer's book, The Fatherless Generation, which will be republished and released later this year. Visit somebodycares.orgor  dougstringer.comfor more information, or to sign up for news, articles and announcements by e-mail.
Recently on Spiritual Life
Have something to say about this article? Leave your comment via Facebook below!
advertise with us
Example: "Gen 1:1" "John 3" "Moses" "trust"
Advanced Search
Listen to Your Favorite Pastors