The Gospel: A Contrast Between Who 'Gets It' & Who Doesn't
Michael Card, From the Study
Wednesday, January 12, 2005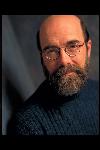 When the sinful woman arrived, she washed Jesus' feet with her tears, continuously kissed his feet and poured costly perfume on them. Simon did not love Jesus. The woman did. Religious men who should: 0 Simple women who shouldn't: 2.
While Jesus was in the Temple, he watched the rich people putting their gifts into the collection box. Then a poor widow came by and dropped in two pennies.
* In chapter 21, Jesus is observing the rich (men?) putting their offerings in the Temple treasury. At the same moment, a poor widow puts in two virtually worthless copper coins. It is important to note that she put in two coins, she might have kept one for herself, but she didn't. She was disturbingly, sacrificially generous. They were not. Wealthy, religious men: 0. Poor women: 3.
They told the apostles what had happened, but the story sounded like nonsense, so they didn't believe it.
* Finally, in chapter 24, we see that crucial group of witnesses that Luke simply refers to as "the women," returning with spices intending to anoint Jesus' dead body. At the empty tomb, they encounter two radiant angels who tell them the good news that Jesus is no longer there. He is risen! When they run back to tell the Eleven, the cowering men refuse to believe them. Luke the doctor uses the medical term for delirium to describe how the disciples regarded the women's message. The women believed. The disciples didn't. Men who should have gotten it: 0. Women who weren't supposed to have: 4.
What about you?
So what's the point? Are these passages there merely to give women another chance to beat up on us guys? I don't think so. Luke shows us several similar instances where both parties are male. (The Good Samaritan 10:25ff, The Rich Man and Lazarus 16:19ff. The Tax Collector and the Pharisee 18:9ff) Why else would he tell us these stories except to comfort those who are looked down upon as "clueless" and to deeply disturb people (male and female) who arrogantly think they "get it".
Who are you? Are you entrenched in the "fashionable" crowd where it is cool to disbelieve, to refuse to submit, to flaunt wealth? Or do you find yourself most often standing on the outside? Excluded? Looked down upon? In the end, according to Luke, which group truly "gets it" and which group doesn't?


From the Study is a monthly syndicated column by Michael Card. For more information about Michael Card, please visit www.michaelcard.com.
Recently on Spiritual Life
Have something to say about this article? Leave your comment via Facebook below!
advertise with us
Example: "Gen 1:1" "John 3" "Moses" "trust"
Advanced Search
Listen to Your Favorite Pastors