The Law of Kindness
Karol Ladd, Author of The Power of a Positive Woman
Tuesday, February 18, 2003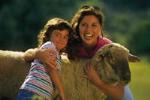 Have you noticed that some people seem to have a gift for loving others? Romans 12:6-8 tells us that God has given each of us gifts in certain areas. "Service" and "kindness" are two of the gifts in the list. Other women may have different gifts such as teaching or administration or encouragement.
But even when kindness is not our predominant gift, it still should be a quality that is evident in our lives. Love and kindness are two of the fruits of the work of the Holy Spirit (see Galatians 5:22-23). Love should always be a central theme in the life of a follower of Christ.
First John 4:7-8 says, "Dear friends, let us love one another, for love comes from God. Everyone who loves has been born of God and knows God. Whoever does not love does not know God, because God is love." Christians ought to be the most loving people in the world.

Unfortunately, that's not always the case. From backbiting to gossip to harassing people who don't know Christ, our negative behavior can speak volumes. But when the people around us experience true kindness and love through the Holy Spirit at work in us, they begin to get a picture of Christ's abiding love.

According to Proverbs 31:26, a positive woman exhibits the "law of kindness with her tongue" (nkjv). Could others say that about us? Do kindness and love control our words and actions?
Of course, love is not always warm and fuzzy. Sometimes love means encouraging someone to become a better person. At times the most compassionate thing we can do is to confront a friend or loved one and then offer a step up-a lift to help the person move forward in a positive direction. In such cases, kindness should be coupled with wisdom as we speak the truth in love.
A friend of mine (I'll call her Susan) uses the following formula for encouraging people to experience health and wholeness when they've been caught in a destructive lifestyle. She actually formulated these principles when her daughter's friend began to make unwise relationship choices and needed direction and help. Susan told her daughter to talk to her friend and follow these three steps:
(1.) Revelation. Say, "Here's what you are doing." In this case, Susan's daughter helped her friend recognize her destructive behavior.
(2.) Reaction. Say, "Here's what could happen." The daughter pointed out the consequences of her friend's behavior.
(3.) Road to success. Say, "Here's a better way." The daughter offered tips on how to be a positive friend.
Susan will be the first to tell you that these principles must be delivered in kindness and love. Furthermore, we'd be wise to remember that advice is best offered when it is requested or desired; otherwise we may be wasting our time. Any change, reaction, or result is in God's hands; our responsibility is simply to love.
Jesus is our example when it comes to "speaking the truth in love" (Ephesians 4:15) and helping others choose a more positive direction in life. He showed us love by showing us a better way. In his Sermon on the Mount, he gave us a loving and beautiful picture of how to enjoy a happy life. The word blessed in this passage comes from the same Greek root (makarios) as the word happy:
Recently on Spiritual Life
Have something to say about this article? Leave your comment via Facebook below!
advertise with us
Example: "Gen 1:1" "John 3" "Moses" "trust"
Advanced Search
Listen to Your Favorite Pastors