The Protestant Protest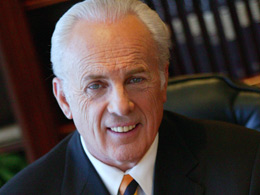 When I was married, for example, Patricia and I stood before the minister (my father) and recited our vows. Near the end of the ceremony, my father declared, "By the authority vested in me by the state of California, I now pronounce you man and wife." Instantly we were legally husband and wife. Whereas seconds before we had been an engaged couple, now we were married. Nothing inside us actually changed when those words were spoken. But our status changed before God, the law, and our family and friends. The implications of that simple declaration have been lifelong and life-changing (for which I am grateful). But when my father spoke those words, it was a legal declaration only.
Similarly, when a jury foreman reads the verdict, the defendant is no longer "the accused." Legally and officially he instantly becomes either guilty or innocent-depending on the verdict. Nothing in his actual nature changes, but if he is found not guilty he will walk out of court a free person in the eyes of the law, fully justified.
In biblical terms, justification is a divine verdict of "not guilty-fully righteous." It is the reversal of God's attitude toward the sinner. Whereas He formerly condemned, He now vindicates. Although the sinner once lived under God's wrath, as a believer he or she is now under God's blessing.
Justification is more than simple pardon; pardon alone would still leave the sinner without merit before God. So when God justifies He imputes divine righteousness to the sinner (Romans 4:22-25). Christ's own infinite merit thus becomes the ground on which the believer stands before God (Romans 5:19; 1 Corinthians 1:30; Philippians 3:9). So justification elevates the believer to a realm of full acceptance and divine privilege in Jesus Christ.
Therefore, because of justification, believers not only are perfectly free from any charge of guilt (Romans 8:33) but also have the full merit of Christ reckoned to their personal account (Romans 5:17). Here are the forensic realities that flow out of justification:
We are adopted as sons and daughters (Romans 8:15)
We become fellow-heirs with Christ (v. 17)
We are united with Christ so that we become one with Him (1 Corinthians 6:17)
We are henceforth "in Christ" (Galatians 3:27) and He in us (Colossians 1:27)

How Justification and Sanctification Differ

Justification is distinct from sanctification because in justification God does not make the sinner righteous; He declares that person righteous (Romans 3:28; Galatians 2:16). Notice how justification and sanctification are distinct from one another:
Justification imputes Christ's righteousness to the sinner's account (Romans 4:11b); sanctification imparts righteousness to the sinner personally and practically (Romans 6:1-7; 8:11-14).
Justification takes place outside sinners and changes their standing (Romans 5:1-2, sanctification is internal and changes the believer's state (Romans 6:19).
Justification is an event, sanctification a process.

Those two must be distinguished but can never be separated. God does not justify whom He does not sanctify, and He does not sanctify whom He does not justify. Both are essential elements of salvation.

Why differentiate between them at all? If justification and sanctification are so closely related that you can't have one without the other, why bother to define them differently? That question was the central issue between Rome and the Reformers in the sixteenth century, and it remains the main front in renewed attacks against justification.

Justification in Roman Catholic Doctrine

Roman Catholicism blends its doctrines of sanctification and justification. Catholic theology views justification as an infusion of grace that makes the sinner righteous. In Catholic theology, then, the ground of justification is something made good within the sinner-not the imputed righteousness of Christ.
Recently on Spiritual Life
Have something to say about this article? Leave your comment via Facebook below!
advertise with us
Example: "Gen 1:1" "John 3" "Moses" "trust"
Advanced Search
Listen to Your Favorite Pastors