The Relationship God Desires with Us
Dr. Beverly Rose
Friday, August 25, 2006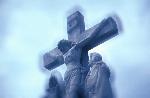 Why would an omnipotent God want to meet us — mere fallen creatures in a fallen world? Why should he care whether or not we want to spend time with him? A powerful, omniscient God could run the universe just fine without us. Jesus didn't have to die on the cross, reaching out to us in saving grace. He didn't have to come from behind the veil that we put in place by our sin. In his final hours on earth, he didn't have to tear the curtain in two to restore our relationship with him. Why did he do all this for us? He did it because we were made for relationship with him.
Why do I continue to pray? Because I know that a loving God is with me working everything for the good. An indifferent God would most likely give us whatever we ask. It would be far easier for him to grant our requests than to deny them. But a loving God chooses, instead, to give us his best answer. He even loves us so much that at times he says no.
A loving God has also given us the Holy Spirit to guide us in our prayers, hoping that we will come to desire more and more what benefits us spiritually. As Richard Foster reassures us, "God is not destroying the will but transforming it so that over a process of time and experience we can freely will what God wills. In the crucifixion of the will we are enabled to let go of our tightfisted hold on life and follow our best prayers."[i]God hopes we will pray our best prayers. Yet he remains ever attentive to the unspoken desires of our heart.
When we fall to our knees in prayer, perched on the threshold between this life and the next, what do we desire most? We wish, first and foremost, for God to be with us. Mercifully that is the prayer he always grants. Just as he answered us long ago by coming to earth, he is answering us still every moment of every day simply and miraculously by being there in loving relationship with us.
Why should I empty myself, relinquishing myself to God? Because I know God loves me and wants to fill me with his presence. In fact, Jesus loves us so much that he emptied himself so that the power of God could work in him. Paul told us, "Your attitude should be the same as that of Christ Jesus: Who, being in very nature God, did not consider equality with God something to be grasped, but made himself nothing, taking the very nature of a servant, being made in human likeness. And being found in appearance as a man, he humbled himself and became obedient to death — even death on a cross!" (Philippians 2:5-8). Jesus could have called in legions of angels to avert his dreaded fate. Instead he submitted obediently to the will of the Father, praying, "If you are willing, take this cup from me; yet not my will, but yours be done" (Luke 22:42).
Why should I fall silent, believing that I will hear God's voice? Because Jesus talked to sinners, tax collectors, and outcasts, so why not to me? Jesus didn't concern himself just with creating masses of followers but forged a relationship with each person individually, especially the ones with whom others didn't. In reaching out to all of us, he demonstrated that he loves each of us too much not to embrace every one of us.
Recently on Spiritual Life
Have something to say about this article? Leave your comment via Facebook below!
advertise with us
Example: "Gen 1:1" "John 3" "Moses" "trust"
Advanced Search
Listen to Your Favorite Pastors