The Tale of the Third Follower: Excerpt from Lazarus Awakening
Joanna Weaver, Author
Thursday, January 27, 2011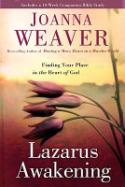 The Tale of the Third Follower
I never planned on writing a trilogy about Mary, Martha, and Lazarus, the siblings from Bethany that we meet in Luke's and John's gospels. In fact, when I wrote Having a Mary Heart in a Martha World, I was fairly certain it was the one and only book to be found in those verses. But God surprised me six years later, and Having a Mary Spirit was born.
The thought that there might be a third book never crossed my mind until I shared an interesting premise with a few friends who are writers. It was a teachingpoint I'd hoped to fit into Having a Mary Spirit but never quite found room.

"We all know Jesus loved Mary," I told my friends. "After all, look how she worshiped. And we can even understand how Jesus loved Martha. Look how she served. But what about those of us who don't know where we fit in the heart of God?" The question hung in the air before I continued. "The only thing of significance that Lazarus did was die. And yet when Mary and Martha sent word to Jesus that Lazarus was ill, they said, 'Lord, the one you love is sick.' "
Somehow my words seemed to have extra weight as they floated between us. Extra importance. Even I felt their impact. After a few moments my friend Wendy broke the silence. "That part of the story didn't make it into the book because it is a book." I can't adequately explain what happened when she said those words, except to say it was as though a giant bell began to sound in my soul. Its reverberations sent shock waves through my body as I tried to change the subject.
The thing is, I didn't want to write about Lazarus. I wanted to write a different book. I was ready to move on, to explore other subjects.
But God wouldn't let me. And so you hold this book in your hands.
A Place to Call Home

We first meet the family from Bethany in Luke 10:38-42. Or rather we meet part of the family—two followers of Jesus named Martha and Mary.

You're probably familiar with the story Luke tells. Jesus was on His way to Jerusalem for one of the great Jewish feasts when Martha came out to meet Him with an invitation to dinner. But while Martha opened her home, it was her sister, Mary, who opened her heart. To put the story in a nutshell: Mary worshiped. Martha complained. Jesus rebuked. And lives were changed.
Strangely, Luke's account never even mentions Mary and Martha's brother, Lazarus. Perhaps he wasn't home when Martha held her dinner party. Perhaps he was away on business. Or perhaps he was there all the time but no one really noticed.
Some people are like that. They have perfected the art of invisibility. Experts at fading into the background, they go out of their way not to attract attention, and when they get noticed, they feel great discomfort.

Of course, I have no way of knowing if this was true of Lazarus. Scripture doesn't give any information as to who he was or what he was like—only that he lived in Bethany and had two sisters. When we finally meet him, in John 11, it is an odd introduction—for it starts with a 911 call that leads to a funeral:

Now a man named Lazarus was sick. He was from Bethany, the village of Mary and her sister Martha. This Mary, whose brother Lazarus now lay sick, was the same one who poured perfume on the Lord and wiped his feet with her hair. So the sisters sent word to Jesus, "Lord, the one you love is sick." When he heard this, Jesus said, "This sickness will not end in death. No, it is for God's glory so that God's Son may be glorified through it." Jesus loved Martha and her sister and Lazarus. Yet when he heard that Lazarus was sick, he stayed where he was two more days. Then he said to his disciples, "Let us go back to Judea.".… On his arrival, Jesus found that Lazarus had already been in the tomb for four days.…
…"Where have you laid him?" he asked.
"Come and see, Lord," they replied.
Jesus wept. (John 11:1-7, 17, 34-35)
Recently on Spiritual Life
Have something to say about this article? Leave your comment via Facebook below!
advertise with us
Example: "Gen 1:1" "John 3" "Moses" "trust"
Advanced Search
Listen to Your Favorite Pastors