The Tale of the Third Follower: Excerpt from Lazarus Awakening
Joanna Weaver, Author
Thursday, January 27, 2011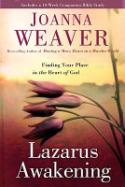 Advanced mathematics remains a complete mystery to me. The unknown factors seem so haphazard. What if z/y squared doesn't equal nine? What then? The unknown factors frustrate us in life's story problems as well—and there are plenty of those in John 11. How are we to compute the fact that Jesus stayed where He was rather than rushing to Lazarus's side when He heard His friend was ill? How do we reconcile Jesus's allowing Mary and Martha to walk through so much pain when He could have prevented it in the first place?
Difficult questions, without a doubt. But there is a foundational truth in this passage we must first acknowledge before we can tackle the tougher issues. "Jesus loved Martha and her sister and Lazarus" (John 11:5, emphasis added). Jesus loves you and me as well. He loves us just as we are—apart from our Martha works and Mary worship. He even loves those of us who come empty-handed, feeling dead inside and perhaps a little bound.
For while it may not add up in our human calculations, the truth of God's love lies at the heart of the gospel. "While we were still sinners," Romans 5:8 tells us, "Christ died for us." We may not be able to do the math ourselves or reason out such amazing grace, but if we'll simply ask, our heavenly Father longs to help us find the bottom line.
The Lazarus Factor
I've always told my husband, John, that he has to die before I do—mainly because I don't want him remarrying some wonderful woman and finding out what he's missed all these years. But then again, if he were to go first, I'm convinced I'd face financial ruin in two months. It's not because John hasn't taken very good care of us financially but because I absolutely hate balancing checkbooks.
My idea of reconciling my checking account is to call a very nice lady named Rhonda at our bank. She graciously lets me know the bottom line whenever I'm a little leery of where I stand.
Now, I know this isn't a wise way to handle fiscal matters. In fact, you CPAs reading this are about to faint if you haven't already thrown the book across the room. But, hey, it works for me.

Most of the time.

Okay, so there have been a few blips in my system. But I'm coming to believe that while this may not be such a great method in the natural realm, it may be the only way to go in the spiritual.

After spending the greater part of my life trying to make everything add up on my own—that is, trying to make sure my good outweighed my bad so I was never overdrawn but was continually making deposits in my righteousness bank—I finally realized that nothing I did could ever be enough. No matter how hard I tried, I constantly lived under the weight of my own disapproval. Which, of course, instantly mutated into a sense that God was coldly disappointed with me as well.

He loves me not…

Keeping my own spiritual books has never added up to anything but guilt and condemnation and an overwhelming sense of hopelessness. I'm so glad God's math isn't like mine. And oh how I rejoice that He doesn't demand I come up with the correct answer before He makes me His child. Because when I couldn't make it up to Him, Jesus came down to me. And through His precious blood sacrifice, He made a way for me to come not only into His presence but directly into the heart of God.
"All of this is a gift from God," 2 Corinthians 5:18-19 tells us, "who broughtus back to himself through Christ.… no longer counting people's sins against them" (nlt).
No More Yardstick
I don't think we can begin to imagine how radical Christ's New Testament message of grace sounded to a people who had been living under the Law for thousands of years. The thought that there might be a different way to approach God—a better way—was appealing to some Jews but threatening to many others.
Recently on Spiritual Life
Have something to say about this article? Leave your comment via Facebook below!
advertise with us
Example: "Gen 1:1" "John 3" "Moses" "trust"
Advanced Search
Listen to Your Favorite Pastors