The Tale of the Third Follower: Excerpt from Lazarus Awakening
Joanna Weaver, Author
Thursday, January 27, 2011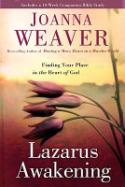 A Place to Lay Our Hearts

From the moment God so kindly exploded the concept of this book in my soul, I've had just one prayer. It is the prayer Paul prayed for all believers in Ephesians 3:17-19:
And I pray that you, being rooted and established in love, may have power, together with all the saints, to grasp how wide and long and high and deep is the love of Christ, and to know this love that surpasses knowledge—that you may be filled to the measure of all the fullness of God.
I believe that everything we were made for and everything we've ever wanted is found in these three little verses. But in order to appropriate the all-encompassing love of God, we must give up our obsession with formulas and yardsticks. But how do we do that? Paul's prayer reveals an important key: "that you…may have power… to know this love that surpasses knowledge" (emphasis added).
The marvelous incongruity of that statement hit me several years ago. "Wait, Lord! How can I know something that surpasses knowledge?" I asked. His answer came sweet and low to my spirit. You have to stop trying to understand it and start accepting it, Joanna. Just let Me love you.
For the reality is, no matter how hard we try, we will never be able to explain or deserve such amazing grace and incredible love. Nor can we escape it.
It's just too wide, Ephesians 3:18 tells us. We can't get around it.
It's just too high. We can't get over it.
It's so long we'll never be able to outrun it.
And it's so deep we'll never be able to exhaust it.
Bottom line: You can't get away from God's love no matter how hard you try.

Because He's pursuing you, my friend. Maybe it's time to stop running away from love and start running toward it.Even if, at times, it seems too good to be true.
Choosing Love

I don't know why Jesus chose me to love. Really, I don't. Perhaps you don't understand why He chose you. But He did. Really, He did. Until we get around to accepting His amazing, undeserved favor, I fear we will miss everything a relationship with Christ really means.
When my husband proposed to me so many years ago, I didn't say, "Wait a minute, John. Do you have any idea what you're getting into?" I didn't pull out a list of reasons why he couldn't possibly love me or a rap sheet detailing my inadequacies to prove why he shouldn't—although there were and are many.
No way! I just threw my arms open wide and accepted his love. I would have been a fool to turn down an offer like that.
I wonder what would happen in our lives if we stopped resisting God's love and started receiving it. What if we stopped trying to do the math, stopped striving to earn His favor? What if we just accepted the altogether-too-good-to-be-true news that the yardstick has been broken and the Cross has opened a door to intimacy with our Maker?
For if we are ever to be His beloved, we must be willing to be loved. Simple, huh? And yet oh so hard. Like my friend Lisa, many of us are plagued by love-doubt. We have hidden tombs yet to be opened. Dark secrets that keep us hanging back. Soul-sicknesses that have left us crippled and embittered by our inability to forgive or forget. Graveclothes that keep tripping us up and fears that hold us back from believing the good news could ever be true for people like us.
I wonder…

Maybe it's time to look in the mirror and start witnessing to ourselves.

Maybe it's time we stop living by what we feel and start proclaiming what our spirits already know: "I have been chosen by God.
Whether I feel loved or believe I deserve it, from this moment on I choose to be loved."

Say it out loud: "I choose to be loved."

You may have to force yourself to say the words. Today your emotions may not correspond with what you've just declared. It is likely you may have to repeat the same words tomorrow. And do it again the next day. And the next.
Recently on Spiritual Life
Have something to say about this article? Leave your comment via Facebook below!
advertise with us
Example: "Gen 1:1" "John 3" "Moses" "trust"
Advanced Search
Listen to Your Favorite Pastors