The Tale of the Third Follower: Excerpt from Lazarus Awakening
Joanna Weaver, Author
Thursday, January 27, 2011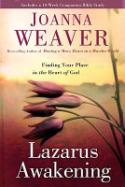 But I promise that as you start appropriating what God has already declared as truth, something's going to shift in the heavenly regions. More important, something's going to shift in you.
So say those words as many times as you need to…until the message gets through your thick head to your newly tender heart. Until you finally come to believe what's been true all along.
Shh…listen. Do you hear it?

It's Love.

And He's calling your name.
---
Breakout 1: What Kind of Father Do You Have?
So much of our understanding of God's love is shaped by what we've experienced in life. Those who are abused or misused as children often struggle with the thought of God as a loving Parent, and even those raised in healthy homes can have distorted views of their heavenly Father. Which of the following misrepresentations are you most likely to struggle
with?
Abusive Father: You never know what you are going to get with this kind of father. Will he be nice when he walks in, or will he hit
you upside the head first chance he gets? His love is determined by his moods. You avoid him as much as possible.

But your true Father is "gracious and compassionate, slow to anger and rich in love" (Psalm 145:8).

Neglectful Father: This dad is far too busy (or just too selfish) to be concerned with you. He's got bigger, more important business
to attend to than your insignificant needs. While he may be present in your life, he's largely unaccounted for. You have to take care of yourself.

But your true Father says, "Look at the birds of the air; they do not sow or reap or store away in barns, and yet yourheavenly Father feeds them. Are you not much more valuable than they?" (Matthew 6:26).
Biased Father: You know this father loves you—or at least you think he does. But he seems to shower affection and gifts on all the other kids, leaving you with leftovers and hand-me-downs. Bottom line: he has favorites, and you're not one of them. You had better get used to it.
But your true Father "does not show favoritism" (Romans 2:11).
Demanding Father: Perfect in nearly every way, this father demands that you be perfect as well. No matter how hard you try, it's never enough. While there are moments when he seems proud of you, they are few and far between. Instead, you carry a heavy sense of his disapproval.
But your true Father "has compassion on his children…for he knows how we are formed, he remembers that we are dust" (Psalm 103:13-14).
How great is the love the Father has lavished on us, that we should be called children of God! And that is what we are! 1 John 3:1
---

Breakout 2: Holding Out for Grace
I appreciate what Bono, the lead singer of the rock group U2, has to say about grace: "It's a mind-blowing concept that the God who created the Universe might be looking for company, a real relationship with people, but the thing that keeps me on my knees is the difference between Grace and Karma."
Bono explains that the idea of karma is central to all religions:
"What you put out comes back to you: an eye for an eye, a tooth for a tooth, or in physics—in physical laws—every action is met by an equal or an opposite one. It's clear to me that Karma is at the very heart of the Universe. I'm absolutely sure of it. And yet, along comes this idea called Grace to upend all that "As you reap, so you will sow" stuff. Grace defies reason and logic. Love interrupts, if you like, the consequences of your actions, which in my case is very good news indeed, because I've done a lot of stupid stuff.… It doesn't excuse my mistakes, but I'm holding out for Grace. I'm holding out that Jesus took my sins onto the Cross, because I know who I am, and I hope I don't have to depend on my own religiosity."
There is no God like you. You forgive those who are guilty of sin; you don't look at the sins of your people who are left alive. You will not stay angry forever, because you enjoy being kind. Micah 7:18, ncv
*Excerpt from Lazarus Awakening by Joanna Weaver Copyright, 2011
Recently on Spiritual Life
Have something to say about this article? Leave your comment via Facebook below!
advertise with us
Example: "Gen 1:1" "John 3" "Moses" "trust"
Advanced Search
Listen to Your Favorite Pastors