The Top Three Misconceptions About Joy
Bonnie Gray, The Faith Barista
Wednesday, April 13, 2011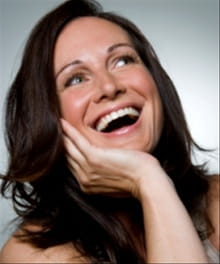 We all long to experience joy. Do we opt for safe joy when Jesus offers full joy?
When I was a little girl, I didn't wear that many dresses. On the occasions I did, it was a big deal to me. I loved twirling, seeing the room spin while my dress opened up into a swirl of colors. Made me laugh. I'd grab my Radio Shack AM radio, turn the dial to find a static free station, and I'd work the room like I was auditioning for Flashdance.
One night when my aunts and uncles were all together, I was allowed to stay up late. I wanted to show off a new, long nightgown I'd gotten for Christmas. So, I bounced into the middle of the room and spontaneously busted out some swan lake moves. I was expecting some oohs and aahs. Instead, the room exploded into roars of laughter. One uncle rolled onto the floor hoopin' and hollering, while another aunt sprayed her drink in the air; they were laughing so hard.
As I stood there confused, someone finally let me in on what was so funny. They said I was a funny ballerina because underneath my beautiful nightgown, I forgot I was still wearing my old flannel PJs.
My mom thought it was important for me to stay warm. So, she had me pair my nightgowns with PJ pants. I turned around and ran into the bedroom, shut the door and just bawled my eyes out. I was so embarrassed.
Safe Joy
I carry the same type of suspicion about joy.
I'm afraid to trust joy fully, because I don't want to be wrong about joy.
Don't be misled. I am a joyful person. But I'm learning that my joy is "safe".
I am a celebrate-junkie. If a day is going beige, I can figure out a random reason to make a special dinner, desert, or invite a friend over.
I love encouraging others. I can't imagine a better way to spend time with people in everyday life and hearing them share stories of faith.
I have tasted God's joy in hard times. I have trusted God through extended periods of trial and I've tasted the joy of His peace and presence, even when life hurt.
When it comes to being joyful for myself or personal pursuits, I am very hesitant to abandon myself to joy.
You see, my misconceptions about joy don't stem from God. They point to new areas He's asking me to trust Him in.
I thought faith was mainly used to get us through difficulties.
God has been showing me faith is equally needed to accept the grace and gift of joy.
Full Joy
I've been asking God to help me experience what Jesus calls "joy made full".
"…These things I speak in the world so that they (disciples) may have My joy made full in themselves."
~ Jesus' final prayer before He faces the cross, John 17:13
Full is translated in the Greek as "pleroo".
Pleroo.
- Filled to the brim.
- Full Joy
In response, I've been asking myself — what is keeping me from full joy?
Top 3 Misconceptions
Here are the Top 3 Misconceptions I've been holding and the Full Joy Truths I'm discovering :
Misconception#1: Full Joy feels irresponsible. I have so many problems that are unresolved. Full joy seems dismissive of these important issues. You can't just be happy!
Full Joy Truth#1: Jesus has paid the price for my shortcomings, so that I'm free to enjoy His grace. To the best of my creativity, I can find moments and pursuits that bring me joy. And I'm free to enjoy it guilt-free!
"How much more will the blood of Christ who… offered Himself without blemish to God, cleanse your conscience from dead works to serve the living God? ~ Hebrews 9:14
Recently on Spiritual Life
Have something to say about this article? Leave your comment via Facebook below!
advertise with us
Example: "Gen 1:1" "John 3" "Moses" "trust"
Advanced Search
Listen to Your Favorite Pastors