The Unbroken Promise
Stormie Omartian
Wednesday, December 03, 2003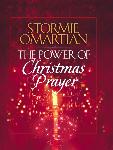 In the midst of Micah's prophecy of doom, however, came another message of hope.
"The Lord has spoken to me about you, Bethlehem," declared Micah to the people. "You are the least significant town in all of Judah, yet out of you shall come the most important Ruler in Israel. He will feed His flock like a good shepherd, and all who follow Him will dwell securely. He will rule forever and bring peace to anyone who receives Him."
Everyone liked this part of the message, but they didn't want to obey God. They wanted to follow their own desires and dreams instead of doing what God was requiring them to do.
Jeremiah had a voice like a solo violin. It soared above the din of all concerted efforts against him. Its lyrical sound deeply penetrated the righteous souls who would listen, filling them with sorrow and mourning for the sins of their nation. To the godless, however, his voice was interminable shrieking that had to be silenced. So they isolated it by ridicule and rendered it solitary by persecution.
"You rulers are corrupt, but you religious leaders are even worse," declared Jeremiah to the people of Judah and Israel. "You are the ones who are supposed to hear God's voice, and yet you are sold out to your own selfish ambitions. I despise your idolatry. I am grieved that you disregard the laws of God. If you do not change your ways, you can be sure that God will deliver you to your enemies."
"Quiet, Jeremiah!" said the people. "Stop talking about coming disaster. We want to hear something positive."
"I don't believe you really hear from God," said the king to Jeremiah. "Therefore your predictions that we will be taken into exile by our enemies amount to treason. Your writings must be destroyed!"

The king's fury prevailed. Jeremiah was unfairly convicted of treason and his writings were publicly burned. But nothing could destroy the anointing of God upon him, so he lived to write the same words again. This time with a message of hope.
"The days are coming when God will raise up a branch of righteousness from the house and line of King David," declared Jeremiah. "This King will reign forever and save His people from all of their enemies."
Everyone liked this part of the message, but they didn't have enough faith to believe it.
The people did not listen to God's prophets, and so exactly as Isaiah, Micah, and Jeremiah had warned, Israel and Judah were captured by their enemies and fell into the hands of cruel and oppressive rulers. Then the voice of all prophecy ceased.
It would be four hundred years before any prophetic voice was heard again.
For four centuries people remembered what the prophets had said. All their prophecies of doom had come to pass. Surely their prophecies of hope would, too. God had promised to send His Son to redeem them, so they watched for the Messiah to come. They looked for His light to penetrate the darkness of their existence. They thirsted for His living water in their dry and barren lives. They yearned for a Deliverer to set them free from their oppressors. They desperately needed His everlasting peace to invade their endless unrest. They cried out to God to send the Savior. He was their only hope.
Recently on Spiritual Life
Have something to say about this article? Leave your comment via Facebook below!
advertise with us
Example: "Gen 1:1" "John 3" "Moses" "trust"
Advanced Search
Listen to Your Favorite Pastors