Time for a Culture Change: Are You Ready?
Jim Daly, President, Focus on the Family
Tuesday, October 23, 2012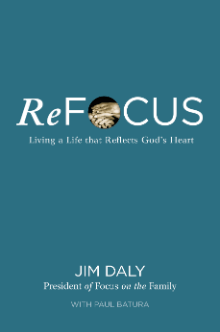 But now, standing in South Dakota, I was told that TOMS was no longer comfortable with their association with Focus. Blake had just posted a blog about Focus on the Family, and his words, read to me by our vice president of communications, Gary Schneeberger, saddened me. Earlier in the week, Blake and his company had been chastised and petitioned by homosexual advocates, demanding that he apologize for speaking at our event.
What did Blake say in his blog that incited such a strong reaction one week after the interview? He suggested that if he had known what we stood for as a ministry, he wouldn't have agreed to speak at our event. The topic was grist for the blogosphere, especially at sites promoting homosexual rights. I was most saddened by the level of vitriol heaped not only on Focus on the Family but also on Blake and his colleagues at TOMS by those with whom we have ideological disagreements.
A few days later, Blake and I talked on the phone. I greatly respect and appreciate him and understand the pressure exerted by people in his own organization to distance himself and TOMS from Focus. I tried my best to listen more than talk and didn't try to strong-arm him. Because we had already taped the program and had it in our possession, we had the ability to ignore Blake's wishes and air the program. In fact, given the brewing controversy, it would have generated significant publicity and ratings for Focus. But after talking with Blake, I agreed not to air the radio program. It grieved me to think of the great opportunity we had to help kids — but because of the criticism of a vocal minority, we wouldn't be able to do so. I'd hoped that our partnership with TOMS would be a positive experience of working with those in the business sector, yet our past efforts to be a voice of truth within our culture had alienated so many people that this opportunity to put shoes on the feet of children was squelched.
What happened?
How did we arrive at such a point that an organization like Focus on the Family is deemed unfit by some in our culture to help children in need simply because we hold to what we believe are biblical mandates about marriage and family?
Something is wrong.
But we already knew that.
We're living in tough and confusing times. We see the brokenness of the world, the inevitability of disappointment, the relentless cycles of heartache.
We see the ugliness inside our culture — the absurdity of seemingly really smart people doing really unwise things — and we find it to be distasteful and downright destructive. We see conflict and controversy growing on a daily basis, pride and power plays, and the sad realization that money, sex, prestige, and power seem to drive the passions of people on all sides of the issues.
If you are like me, you want to do something about it — but what?
There must be a better way.
There has to be a better way.
Perhaps you, like many followers of Christ, have been pouring your heart and soul into the task of helping others, either individually or collectively. Maybe you've also been doing your best to help solve the problems of this world, whether social, political, economic, or environmental.
But there's a problem.
In the process of jumping in, rolling up your sleeves, and getting busy working toward solutions, you've discovered that the great divisions in our culture are creating boundaries that we cannot seem to cross. The clash of values has enraged so many, has so alienated citizen from citizen and believer from believer, that even in our efforts to alleviate suffering and help those in need, we are viewed with suspicion or even contempt.
Recently on Spiritual Life
Have something to say about this article? Leave your comment via Facebook below!
advertise with us
Example: "Gen 1:1" "John 3" "Moses" "trust"
Advanced Search
Listen to Your Favorite Pastors