Time for a Culture Change: Are You Ready?
Jim Daly, President, Focus on the Family
Tuesday, October 23, 2012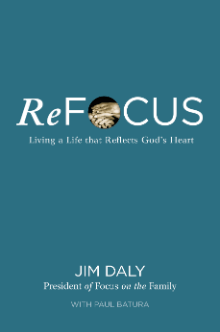 Physician, Heal Thyself!

When we read through the Gospels, we quickly discover that Jesus is repeatedly dealing with the religious people and forcing them to confront the shape of their hearts toward the sinful world. Consider the bold charge in Luke:
"But to you who are listening I say: Love your enemies, do good to those who hate you, bless those who curse you, pray for those who mistreat you. If someone slaps you on one cheek, turn to them the other also. If someone takes your coat, do not withhold your shirt from them. Give to everyone who asks you, and if anyone takes what belongs to you, do not demand it back. Do to others as you would have them do to you.
"If you love those who love you, what credit is that to you? Even sinners love those who love them. And if you do good to those who are good to you, what credit is that to you? Even sinners do that. And if you lend to those from whom you expect repayment, what credit is that to you? Even sinners lend to sinners, expecting to be repaid in full. But love your enemies, do good to them, and lend to them without expecting to get anything back. Then your reward will be great, and you will be children of the Most High, because he is kind to the ungrateful and wicked. Be merciful, just as your Father is merciful." - Luke 6:27-36
To be candid, I struggle with these instructions. This behavior doesn't come naturally to me. And from what I've seen in the way people treat those with whom they disagree, I think all of us struggle with these instructions. These are God-focused and supernatural teachings, and the flesh, even subtly, considers this guidance beyond reach. Of course, on our own, it is — but not if we allow God to grab hold of our hearts. Not if we allow Him to mold and shape us in a way that compels us to live lives that reflect His heart, not ours. The New Testament urges us to live quiet lives so we can live in peace. It also reminds us to pray for those in authority over us, including those in government. You'll note that within the Scriptures we see no distinction of person or ideology. "Give back to Caesar what is Caesar's and to God what is God's" is how the gospel writer Mark (Mark 12:17) recorded Jesus' instruction. As Christians, we have an obligation to live under secular authority, as long as in doing so, it doesn't compromise or violate God's law.
Do you get what this means? To live in this fashion requires us to lay down our own egos, put away our prideful self-interests, and set aside our own expectations. It also means that if we truly embrace this perspective, then we're likely to run into difficulty and encounter awkwardness and conflict.
So when we encounter this conflict, what are we to do?
Here is the great challenge: we are always called to express our concerns and opinions in a respectful and thoughtful manner. I don't see any teaching in the New Testament that allows us to cast aside our godly character to gain some victory, regardless of how grand the prize. In other words, the ends do not justify the means. If we Christians attempt to fight a battle with only the goal to win in mind, then we have sold out and do not have the character of Christ. We all want to teach our kids about character. We repeatedly tell them it isn't about winning or losing but how you played the game. But when it comes to this arena for adults, whether it is in the church or the political theater, do we apply this same principle? What is in our hearts toward the opposition?
Recently on Spiritual Life
Have something to say about this article? Leave your comment via Facebook below!
advertise with us
Example: "Gen 1:1" "John 3" "Moses" "trust"
Advanced Search
Listen to Your Favorite Pastors