How to Walk Strong
Chantel Hobbs
Tuesday, September 13, 2011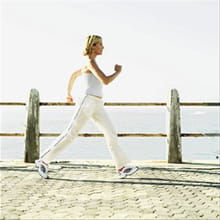 Editor's Note: The following is an excerpt from Walk Strong, Look Up: The Most Powerful Exercise for Your Body and Soul, by Chantel Hobbs (Revell Books, 2011).
It Pays to Advertise
As I waited for my Egg Beaters and whole-grain toast, an old man plopped down in front of me. At first glance, what to my wondering eyes did then appear but a grandpa whom I imagined had a part-time gig as a model—of Santa suits, that is. My first thought was, Well, the suffering economy wouldn't affect him trying to get a job at the mall for the holidays. That is, as long as he liked kids, had a jolly attitude, and was talented enough to say "ho-ho-ho" while making his belly jump. But on this day he was sporting ordinary clothes, with the exception of an extraordinary hat. It proclaimed boldly, "Jesus is my boss."
The breakfast joint we were in was very laid-back. In fact, the majority of the main dining area was filled by only one long table with benches. Strangers had no choice but to dine together. As I looked up and smiled to welcome this St. Nick look-alike to the table, I said, "Sir, please tell me about your hat." Without any hesitation, he replied, "Well, all I know is it pays to advertise."
I smiled again. He offered a handshake and said, "My name is Bill."
By the scruffy looks of him and the oil-stained overalls he wore, I assumed this man was not a graduate of the Harvard School of Business or a fancy salesman. Yet the confidence Bill oozed as he said those words, "it pays to advertise," displayed savvy to rival that of any stockbroker on Wall Street. Combine that with the earnest conviction in his eyes, and I can't imagine anyone who wouldn't be willing to buy whatever he was selling.
But the whole point was Bill wasn't trying to sell anything. He didn't need to beg others to buy Jesus. Instead, he wore a hat that basically said "He runs the whole show!" It was a great reminder to me on this day in particular. Just a few hours prior, the curtain had closed on my grandfather's life.
I had received the call that my Pepa passed away just after midnight. For as long as I could remember, he had been there. He never missed a birthday or a holiday. His brilliant blue eyes and beautiful, wavy, silver hair were a hallmark at the Thanksgiving table. I don't think this special day had passed even one year where he didn't well up with tears as he said grace, always making the same humble request, "Good Lord, please keep us true and faithful to Thee."
Just before Bill made his entrance in the restaurant that morning, I had been trying to imagine what I'd say when I spoke at my grandfather's service. I'm not sure if it was the sincerity in the hat-wearing pseudo-Santa's eyes, or the color of his eyes themselves that reminded me of my Pepa. But the fact they shared the name Bill did make me think our meeting and its timing was nothing short of divine.
My grandfather, William Brown, had a quiet and gentle spirit, more so than any man I've ever known. While he didn't use lots of words to describe his faith, it was something I never questioned. His life spoke of God's trust more than any words he could ever say. However, because he was a man of few words, I was having trouble trying to imagine what message more than any other he'd want to leave with us, his loved ones.
Recently on Spiritual Life
Have something to say about this article? Leave your comment via Facebook below!
advertise with us
Example: "Gen 1:1" "John 3" "Moses" "trust"
Advanced Search
Listen to Your Favorite Pastors