How to Walk Strong
Chantel Hobbs
Tuesday, September 13, 2011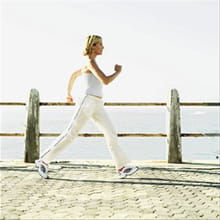 In just a matter of minutes after meeting Bill, my questions concerning what I should share were about to be answered. As we waited for our breakfast, I told him of my recent loss. I also let him know I had been wondering all morning about what my grandfather would want said at his funeral.
Bill responded with utter confidence as he looked straight in my eyes, "I'm going to tell you." At this point, I knew I should take notes. Bill went on. "In John 14, Jesus is speaking to Thomas about His death, 'Let not your heart be troubled; you believe in God, believe also in Me. In My Father's house are many mansions; if it were not so, I would have told you. I go to prepare a place for you. And if I go and prepare a place for you, I will come again and receive you to Myself; that where I am, there you may be also. And where I go you know, and the way you know.' Thomas said to Him, 'Lord, we do not know where You are going, and how can we know the way?' Jesus said to him, 'I am the way, the truth, and the life. No one comes to the Father except through Me.' There you have it."
I knew in an instant this was the only message that mattered. And it was a true testimony to my Pepa's character. While my grandfather had many wonderful qualities, his greatest legacy rested in knowing Jesus was his boss too. It went all the way back to him having survived polio as an infant. Then he spent four years of his childhood paralyzed from the disease. He was kicked by a horse as a youngster, and had a terrible scar on his face. Yet he managed to walk strong for his entire life—by looking up! Even after losing my grandmother to pancreatic cancer in the prime of their lives, he never wavered. The substances of my Pepa's years on earth were defined by his acceptance of Christ. His death was an opportunity to celebrate the eternal life he was now experiencing, and to encourage others to accept Jesus as their boss!
As Bill and I finished our eggs, I felt like I had just received a kiss from God. This hand-delivered message was the perfect way for me to sum up my Pepa's desire for everyone he knew. All I could do was cry, finish my meal, and hug Bill goodbye. I wondered if we'd ever meet again.
The service was beautiful. I shared the awesome story of meeting Bill over breakfast, and I read the passage from the book of John. I went on to remind everyone that Pepa was in heaven for only one reason: he believed in Jesus and lived his life with this conviction. I prayed seeds were planted into the hearts of those who did not have such certainty about their eternal home. A few months later, I began writing this book.
With my deadline approaching, I scheduled a conference call with the publisher to discuss the title. The morning of the meeting, I woke up feeling anxious. You see, a few weeks prior, the person in charge of this had sent me an email with a proposed title. I knew it was not the right one. Not because it was bad—it just didn't capture the message of my book. After pouring my heart onto the pages, I needed to be sure the title was motivating, intriguing, and also hope-filled.
I decided to go for a walk down by the beach to clear my head and try to come up with another title to share during the meeting. Five miles later, I had nothing. My mind was blank. I looked at my watch and realized I had ten minutes to get to my car and plug in my cell phone so I'd have enough battery for the call. Just before the parking lot was a little café. I noticed there were just a few folks sitting outside. Suddenly, I had to stop. What to my wondering eyes did then appear?
Recently on Spiritual Life
Have something to say about this article? Leave your comment via Facebook below!
advertise with us
Example: "Gen 1:1" "John 3" "Moses" "trust"
Advanced Search
Listen to Your Favorite Pastors