How to Walk Strong
Chantel Hobbs
Tuesday, September 13, 2011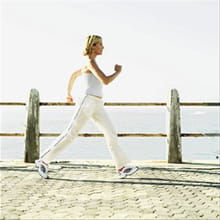 Sitting at a table alone, wearing the hat that read, "Jesus is my boss," was my friend Bill. I had not seen him since the first time we had met, nearly six months prior.
I was thrilled to find he remembered me. He asked how my family was handling everything. I told him we were doing well. Then I mentioned I had been working on a book about walking. Just before I said goodbye, I asked him if he had a word for me. Once again, he showed no hesitation. "To walk strong, look up," he said. I was speechless. It was perfect! Bill had no idea he had just titled this book.
This was the perfect way to summarize the only way I have found to truly walk strong: it's by looking up!
Trust me, coming up with a book title all parties agree upon can take months of going back and forth. So the fact everyone on the conference call got a kick out of hearing the story of how I met Bill—and also loved the title suggestion—was a sheer miracle! I knew it said it all.
Walking has become a great passion for me. I have never found any other exercise that has as much power as walking. Walking strengthens my body, renews my mind, and feeds my spirit. While running, going to the gym, using an elliptical machine, or taking a spin class are all things I enjoy, the benefits of each don't begin to compare.
I know this sounds like a lot of hype for something we've all been doing for as long as we can remember, but I'm going to try to prove it to you on these pages. I don't have a clue if you have very much faith in yourself or God at this moment. I know firsthand that trying to tackle a new plan for getting fit can feel daunting. However, if you'll look up, heaven wants to help.
If you are desperate for answers—great, they're here. I have seen God show up in my darkest hours, time and time again, and remind me I don't need to look past what's right in front of my face. You are holding this book in your hand for a reason.
In the following pages, I'm going to show you how to walk stronger than ever. I'm talking about how to use walking as the primary source for making deposits into your "wellness bank," which will deliver great dividends. Sure, you'll be feeling better than ever, but your faith is also about to explode as you look up and see God as the greatest workout partner of all time.
From my own story of weight gain, weight loss, and years of diet drama, I have learned that help from above is the only insurance I have. As long as I continue to walk with God, I am confident I can maintain a healthy weight and remain free from my old life of shame and misery. Sadly, many people don't see that God wants to be at the center of everything we do.
I suppose it's because most of the world is too busy looking back or looking around to look up. When it comes to self-improvement and meeting the needs of our body, soul, and spirit, society says we should compartmentalize all of our efforts. For your body, join a gym, buy a magazine, or step on a scale—and do whatever it takes until that scale smiles back at you. For your soul, go to dinner with a friend, read a good book, watch a movie, or find a bench to relax on in the park. And for your spirit, pray often and spend the rest of the time wondering why bad things happen to good people.
After taking the world's well-known route to finding balance and contentment with my body, I was always exhausted and felt defeated, even after I began writing books and trying to help others. Walking changed all of this. Walking has taught me the power to simultaneously engage my physical need to expend energy, my soul's need for quiet thought, and my spiritual need to feel connected with God and His creation. I'm certain there is no way I'd still be on the journey of weight loss and wellness if I had not learned the importance of satisfying all three areas of my life on a regular basis.
Recently on Spiritual Life
Have something to say about this article? Leave your comment via Facebook below!
advertise with us
Example: "Gen 1:1" "John 3" "Moses" "trust"
Advanced Search
Listen to Your Favorite Pastors