How to Walk Strong
Chantel Hobbs
Tuesday, September 13, 2011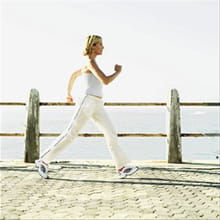 I'll admit I was a little surprised. Every person I had ever seen walking in my neighborhood looked to be on a Sunday stroll compared to this. I proceeded for the next forty-five minutes to pray, dance, sing, and keep moving. When the workout was over, I looked down at my heart-rate monitor and realized my heart rate had stayed strong the entire time. After I finished up I was exhausted and overjoyed, but most of all, I had recognized the power of walking. That walk, on that day, opened my eyes. Walking was not just a way to take care of my body; it was also a powerful time to hang out with my Creator, doing something He created me to do in the first place.
After spending so much time seriously stressed out about my foot issue, I was now beginning to feel relieved. And after five or six similar workouts, I let Melissa know I was ready for her to schedule the interview with the writer from First for Women.
It was near the end of one of my walking workouts the following week that my iPod lost power. I started singing some of my favorite hymns out loud. One of my all-time favorites is one that starts out, "I come to the garden alone, while the dew is still on the roses," and then eventually a beautiful chorus comes in:
And He walks with me, and He talks with me,
And He tells me I am His own.
And the joy we share as we tarry there,
None other has ever known.
I continued my concert, and with sweat dripping and all, I began to sob uncontrollably. Funny things can happen to your emotions when you exercise. Often, more feelings will rise to the surface. Maybe it's the byproduct of letting stress out, who knows? In fact, back when I was training many people a day, I'd try to predict which client would have an emotional breakdown and need tissues.
Because it always happened, without fail.
However, on this day, during my own workout, it was me. Right on Lakeview Drive, as I was heading back home to get my gang ready for school, I was the one with tears streaming down my face, and I knew why it was happening.
As I belted the words, "And He walks with me, and He talks with me," I had an amazing revelation! The greatest workout partner of all time was available to me, for free, and I had never properly invited Him to hang out until now!
From then on, my workouts were no longer only about me. My heart began to shift from having an entirely self-centered motive (remember the words I heard in the doctor's office, get and fat) to now having the thrill of walking with my Creator and talking with Him about my life, my kids, my husband, my work, and my family. Best of all, I had a block of time devoted to doing something with Him, something He created me to do in the first place! Pretty awesome, huh?
When the writer from First for Women called, I'll admit, I was still a little concerned about the possibility of misrepresenting myself as a "walking with God expert" (even though I was pretty sure that three weeks into it I was basically qualified). I'll never forget how this fast-talking, youngsounding, Manhattan-based writer introduced herself to me. "Hi, Chantel. I'm really excited to be talking to you about God as a walking partner. As you may already know, I am planning to give several examples of walking partners in this article. I will be talking about taking a spouse, a child, a best friend, a neighbor, and of course God, out for a walk."
I'm pretty sure God shows up anyway! But then she said something that still makes me smile. "Chantel, we can't seem to figure it out. But whenever we put something of a faithbased nature in our magazine, they fly off the shelf." And I think I responded by saying something cheeky like, "Yeah, that is a hard one to figure."
Recently on Spiritual Life
Have something to say about this article? Leave your comment via Facebook below!
advertise with us
Example: "Gen 1:1" "John 3" "Moses" "trust"
Advanced Search
Listen to Your Favorite Pastors