Was Katrina Intelligent Design?
John Piper, Desiring God
Friday, September 02, 2005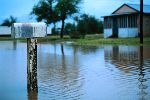 No, Daniel Schorr, God does not answer to us. We answer to him. And we have only one answer: "Guilty as charged." Every mouth is stopped and the whole world is accountable before God. There is only one hope to escape the flood of God's wrath. It is not the levee of human virtue but the high ground called Calvary. All brokenhearted looters and news analysts and pastors are welcome there.
Famine, Flood and Failing Fortune
Meditation on Psalm 105:16
By John Piper
(Sung to the Tune of Jesus, Priceless Treasure)


When the staff is broken,
And in judgment spoken
Righteousness is heard,
Think not God is silent,
Though the famine violent,
This is but His word.
He stands not to give account.
It is we who must before Him.
Come, let us adore Him!
When the flood is breaking
And your fear is waking,
Comfort not your soul,
Thinking the Almighty
Yielded up the right He
Once had to control.
Every river and the seas
Do His sovereign bidding purely.
This is comfort surely.
When your fortunes fail you,
Deep diseases ail you
And your death is near,
Know that Christ your Maker
He alone is Taker
Of your life and fear,
Fall before His power and pray:
Jesus, I now trust you merely,
You have bought me dearly.
© John Piper. All Rights Reserved.

---
2005 Desiring God National Conference: Suffering & the Sovereignty of God: God has brought us to a deep conviction at Desiring God that he is indeed sovereign over all things, including suffering, and that he is good and wise. We believe this is what the Bible teaches. We believe that it is good news for suffering people. We believe the alternative is hopelessness. To strengthen the faith of God's people in the sovereignty of God in suffering we are focusing this year's national Desiring God Conference on Suffering and the Sovereignty of God. We have invited five very thoughtful lovers of God's sovereignty to come help us go deeper into the wisdom and goodness of God. Speakers include: Joni Eareckson Tada, David Powlison, Carl Ellis, Mark Talbot, Steve Saint, and John Piper. Click here for more information and to register.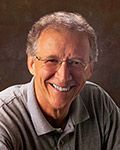 John Piperhas been the Pastor for Preaching at Bethlehem Baptist Church in Minneapolis, Minnesota, since 1980. He has authored numerous best-selling books, including The Passion of Jesus Christ, Don't Waste Your Life and Desiring God. You will find 25 years of online sermons, articles and other God-centered resources from the ministry of John Piper at www.desiringgod.org. He also has a daily radio program, called "Desiring God," which can be accessed online at   www.desiringGod.org/radio.

Recently on Spiritual Life
Have something to say about this article? Leave your comment via Facebook below!
advertise with us
Example: "Gen 1:1" "John 3" "Moses" "trust"
Advanced Search
Listen to Your Favorite Pastors