What Makes the Christian Giver Unique?
Christopher Pettit, Contributing Writer
Thursday, December 30, 2004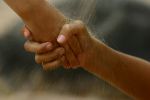 Editor's Note: As you consider giving to one of the Tsunami relief funds, please take a moment to read this commentary about "good works" and the love of Christ.

What separates the good deeds of Christians from the good deeds of others? This question cuts to the heart of Christian outreach. It is the root of other similar inquiries: Who do we help? Is Christ evident in what we are doing?
This struggle wrestled with throughout the Christian community. Many times, how one answers is more a glimpse of their own personal preferences, personality, and theological understanding than based on true study of God's Word and reverence to His plan.
I have witnessed and participated in the debate of these questions both as a leader in my local church and in my occupation with World Relief, the relief and development arm of the National Association of Evangelicals. 
Who do we help?
As chairpersons of local missions for our church, my wife and I are constantly approached by good men and women of faith who desire to live out Christ command to help the poor and the needy.  We also receive many requests from those in need, most with legitimate needs, who are living in dire circumstances. There are people who are unable to lift themselves up and out of their circumstance without the help of others, having received one tragedy after another in their lives.  Many of us have faced those times ourselves. 
Unfortunately, we have also seen our fair share of those whose need is questionable. Early in our tenure, after providing assistance to a few that were unappreciative, rude and unwilling to help themselves, we began to question just how much Christian love we are supposed to share? 
We thought we knew the answer and turned to God's Word to justify it.  We turned to the story of Jesus going to the pool in Bethesda. At this particular pool, an angel would occasionally come and stir the waters and whoever stepped into the pool first would be healed. A great multitude of people who were sick, lame, or paralyzed lay about the pool, waiting.  Jesus walked up to a man who had been lying there for a long time…for 38 years!  Jesus asked him, "Do you want to be made well? (John 5:6b, italics added) The man's response was weak, "Sir, I have no man to put me into the pool when the water is stirred up; but while I am coming, another steps down before me." (John 5:7)  Again, 38 years!  Jesus' response was not the one I was looking for.  For Jesus healed him anyway, showing him grace, even when the man made no attempt to help himself.
The story doesn't end there. A few verses later we find that the Jewish leaders are questioning the man, wanting to know who was healing on the Sabbath.  When it was discovered that it was Jesus, we are told, "For this reason the Jews persecuted Jesus, and sought to kill Him, because He had done these things on the Sabbath."
This one good deed, bestowed upon the one person at the pool who might have been the least deserving, was a key part of God's plan for the salvation of all! 
Recently on Spiritual Life
Have something to say about this article? Leave your comment via Facebook below!
advertise with us
Example: "Gen 1:1" "John 3" "Moses" "trust"
Advanced Search
Listen to Your Favorite Pastors