What Moms Today Can Learn From The Mother of Jesus, Part 6
Eva Marie Everson, Author & Speaker
Thursday, January 30, 2003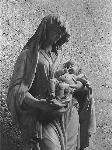 According to the ancient Jewish way of life, Mary could not have been more than 12 or 13 years of age when she was engaged to be married to Joseph.
Think about that for a moment. At an age when today's young adolescent girls are experimenting with cosmetics, standing in line for the next "hot" CD, and thinking about things like training bras and panty hose, Mary was preparing for wedlock. Furthermore, she was hearing from the angel Gabriel that she would be the mother of the Messiah and that she was "favored." (Luke 1:28)
As stated in previous articles, upon receiving this news, Mary immediately left her home in Nazareth for the village of En Karem where her relative Elizabeth lived. As soon as she arrived and the older Elizabeth saw Mary, she said, "Blessed are you among women, and blessed is the fruit of your womb! But why is this granted to me, that the mother of my Lord should come to me? For indeed, as soon as the voice of your greeting sounded in my ears, the babe leaped in my womb for joy. Blessed is she who believed, for there will be a fulfillment of those things which were told her from the Lord." (Luke 1:42b-45)
It was at this time Mary spoke words that have come to be known as The Magnificat (thus called because the Latin Vulgate translation begins with the word "Magnificat," which means "glorifies.")
This past summer, when I traveled through Israel with a group of Christian journalists, we were taken to the "hill country" of En Karem. We arrived by van, got out, and then trekked up incredibly steep and life-altering hills toward the Church of the Visitation, which commemorates the timely visit of Mary to Elizabeth. 
I have to be honest for a moment; I made several stops on the way to the top of the hill in order to catch my breath and at one point seriously considered telling everyone to be sure and take lots of photos for me so that at least I could "see" where I should have been. "And when you're done," I thought to say, "I'll be waiting on you right here as you make your way back to the van."
But I didn't. I persevered, huffing and puffing to the top where we then rounded a corner to see the impressive basilica and an L-shaped wall covered in plaques, which hold the words to The Magnificat in more languages than I knew existed. 
When we went inside the basilica, our guide retold the precious story of the young girl who had made her way up the hill (without a van to even get her partway), to the home of her relative, and who had originally spoken the wisdom-filled words. 
At one point I sat on the floor in the coolness of the chapel and, as my tour-mates listened, read Mary's words from the Bible. It was a very deep moment for me, for I realized that these were far more than a quick response or poem to be engraved on a stone wall.  Mary's words were a prayer.

Another Pregnancy
Recently on Spiritual Life
Have something to say about this article? Leave your comment via Facebook below!
advertise with us
Example: "Gen 1:1" "John 3" "Moses" "trust"
Advanced Search
Listen to Your Favorite Pastors