When a Loved One Doesn't Share Your Faith
Joy Allmond
Monday, March 07, 2011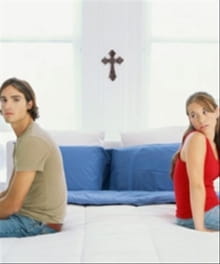 In the same way, you wives, be submissive to your own husbands so that even if any of them are disobedient to the word, they may be won without a word by the behavior of their wives, as they observe your chaste and respectful behavior.
Although this passage speaks specifically to wives, why couldn't the same principal apply to anyone in your inner circle? We can affect more than spouses and children—they are not the only ones watching us. Our friends, coworkers and even acquaintances are observing us to see if it is "real."
Interestingly, the word "observe," as it is used in verse two is a word that indicates not just a one-time observation, rather a continual one (original Greek word is Epoptenu). One of my husband's childhood Sunday school teachers is a terrific example of this principle. Early in her marriage, she became a Christian, but her young husband did not join her in her in her newfound faith. For thirty years, she prayed for her husband. He eventually came to Christ, but do you think it was after a few conversations? No—it took thirty years! That's not only a lot of conversations. That's a very long time of observation.
Thirty years is a long time to wait for, plead with and pray about someone, but in this case, it is what it took. The woman's life was so consistent with her words that her loved one—in this case, her husband—was won to Christ.
Be Prayerful
More than anything, pray.
In doing so, remember that our prayer lives are affected by the way we live. James 5:16 tells us "The effective prayer of a righteous man can accomplish much." Notice that it says righteous man. Are you living in such a way that the prayers for your family are being hindered? Are you pursuing holiness?
God longs to answer our prayers when we pray for things that line up with Scripture. He tells us that Christ came to seek and save the lost. So, if you are praying for your unsaved loved one, rest assured, you are praying according to God's will. If you have been praying for days, month, years—even decades—don't give up.
Pray that God will do something—or even allow something—in their lives to help them see their need for Him.
Pray that God will increase your desire to have holiness cultivated in your own life so that your family member will be won without words.
Pray that the spiritual movement in your family will start with you—not necessarily in what you say to them, or how you say it—but how your own walk in Christ is displayed before them.
*All Scripture references are taken from the New American Standard Bible.
Joy Allmond is a writer for billygraham.org. She lives in Charlotte, NC with her husband, two step sons and two dogs. In her very little spare time, she can be found concocting her latest culinary masterpiece, watching college basketball or buried in a book. She is working on her Master's degree in Biblical Studies at Southern Evangelical Seminary.
Publication date: March 7, 2011
Recently on Spiritual Life
Have something to say about this article? Leave your comment via Facebook below!
advertise with us
Example: "Gen 1:1" "John 3" "Moses" "trust"
Advanced Search
Listen to Your Favorite Pastors