When 'Plan A' Doesn't Work Out
Ben Adams, Crosswalk Contributor
Tuesday, March 06, 2012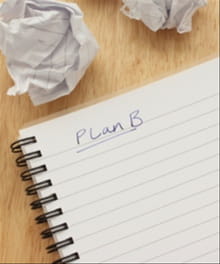 A few months ago I was blessed to be able to take an all-expenses-paid trip to Arizona for insurance training. I love to travel and especially love flying across the country. I always ask for a window seat and never cease to be amazed at God's handiwork of creation. Upon arrival at the hotel I was happy to find that there were no scheduled activities until the next morning. I immediately missed my family back home and dealt with the feelings of guilt knowing my sweet wife was at home tending to the daily duties of raising our four girls. Nothing to do, though, but maximize every moment, knowing the trip would be over in the blink of an eye.
I had packed my running clothes assuming there would be a fitness room at the hotel; however, I received even better news from the desk clerk who informed me that there was a beautiful greenway within walking distance. After several hours of flying I was ready to run! I jotted down the directions and quickly changed clothes. It was a further walk to reach the greenway than I had been told, so no stretching was necessary. The late afternoon sun warmed my back as I began. The sky was the color blue you only see in story books. The trail meandered through a golf course community with lush green fairways on my left and small condo type homes on my right. Everyone had underground sprinkler systems and I would purposefully catch a fine mist every chance I got.
After a couple of miles I noticed that the trail curled down a hill and led into a short tunnel to prevent pedestrians from having to cross a busy thoroughfare. I made my way through the few hundred feet of tunnel and emerged on the other side only to stop dead in my tracks. I almost felt my jaw hit the ground as I stared at one of the prettiest sights I had ever seen. There was a long narrow lake directly in front of me that almost appeared to be a water runway with houses on both sides. Directly ahead of me beaming in the warm rays of sunlight were rows and rows of gorgeous Arizona mini-mountains called mesas. They were so crisp and clear it was as if I was viewing them in high definition. How odd that they were so far away yet I had the sensation of almost being able to reach out and touch one. I stood for several minutes and thanked God for allowing me to be there at that moment so my brain could capture a snapshot that will forever be in my mental scrapbook.
The next two days were spent sitting in classrooms listening to speakers discuss exciting topics such as federal tax brackets and stretch IRAs for grandchildren. There were more than a few times when I daydreamed out the window thinking about those majestic mesas. I just had to find time to see them again before leaving.
On the final night we had a couple of hours of free time before leaving on buses for dinner. I zipped to my room and threw on the running clothes. The excitement was building as I hit the greenway. Clouds had begun to roll in as rain was expected later that evening. I made my way through now more familiar surroundings and could feel my heart thumping as I charged through the tunnel.
I burst through the other side and stopped dead in my tracks again, but this time for a totally different reason. The clouds were coming from the direction of the mesas and had completely covered them! If it had been my first run I would have never known anything was out there. Just as quickly as I became deflated I began laughing out loud. My eyes were drawn across the lake to one lone boat that had not been there on my prior run. It was docked and the name of the vessel was written in big bold letters on the back: PLAN B. How could I not laugh at God's incredible sense of humor?
I just began walking and said, "OK, God, I guess you have something better for me to see." I knew my free time was winding down so began running back the way I had come. As I was about to exit the greenway I clearly saw Plan B! It was even more beautiful than the previous experience. The rain clouds were now dominating the sky at this point, but there was one stretch of sky where the sun was actually splitting the clouds in half. You could see all the way through to the blue. It was a narrow gap, but it was as if the sun were acting as a giant "connect-the-dot" between heaven and earth. There was a bench nearby and I just sat and stared at this incredible piece of scenery. The clouds eventually closed and the sprinkles began to fall as I pondered the days' events on the greenway.
Recently on Spiritual Life
Have something to say about this article? Leave your comment via Facebook below!
advertise with us
Example: "Gen 1:1" "John 3" "Moses" "trust"
Advanced Search
Listen to Your Favorite Pastors