When Satan Comes Knocking
Dr. Robert Jeffress, Pathway to Victory
Wednesday, July 27, 2011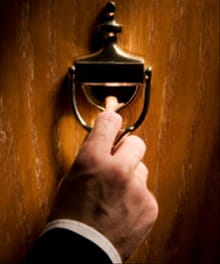 When we reach that point, we are in trouble. How can we prevent our thoughts from turning into strongholds for the devil?
Action 3: Recognize and replace wrong thoughts with God's thoughts
My analogy concerning a burglar attempting entry into your home is flawed in one respect. While we may be successful in preventing an intruder from coming into our home, we cannot keep unwanted thoughts out of our minds. The fact that we are thinking about something means that the alien idea has already gained entry.
Nevertheless, we do not need to allow the intruder to sit down in our favorite chair, engage us in an extended conversation, and announce that since he has been so welcomed, he is taking up residence in our spare bedroom! Instead, we need to follow the Apostle Paul's advice for dealing with an undesirable guest:
"We are destroying speculations and every lofty thing raised up against the knowledge of God, and we are taking every thought captive to the obedience of Christ" (2 Corinthians 10:5).
Remembering the words recognize and replace will help you seize control over wrong thoughts. Use the questions we discussed previously to help recognize whether or not a thought could have satanic origin.
Is this thought true? Does this thought motivate me to fear more or to trust God more? Does this thought contradict God's Word?
But know that simply labeling a thought as harmful and attempting to dismiss it from your mind is not enough. In fact, the more you try to reject an unwanted thought, the more you will find yourself obsessing over it.
To dismiss Satan's thoughts we must replace them with God's thoughts, just as Jesus did.
When Satan attempted to plant seeds of discontent, Jesus responded by quoting a verse from the Old Testament. "Man shall not live on bread alone" (Luke 4:4).
When Satan enticed the Lord with thoughts of power and riches, Jesus recited God's greatest commandment: "You shall worship the Lord your God and serve Him only" (Luke 4:8).
When Satan tempted Jesus to act independently from God, the Lord quoted: "You shall not put the lord your God to the test" (Luke 4:12).
Jesus understood that the best way to dismiss an unwelcome thought is to replace it with another, more-powerful thought. The best way to dispel darkness is to confront it with light!
When fearful thoughts try to seize control of your life, you can replace those thoughts with, "God hath not given us the spirit of fear; but of power, and of love, and of a sound mind" (2 Timothy 1:7, KJV).
When you are tempted with thoughts of discontent, you can replace those thoughts with, "We have brought nothing into the world, so we cannot take anything out of it either. If we have food and covering, with these we shall be content" (1 Timothy 6:7-8).
When you are tempted by fantasies of sex with someone other than your mate, you can replace those thoughts with, "The one who commits adultery with a woman is lacking sense; he who would destroy himself does it" (Proverbs 6:32).
I believe it is this process Paul has in mind when he encourages us to gird our loins with truth (Ephesians 6:14). Our success in spiritual battle depends on confronting any loose thoughts with the truth of God's Word.
Adapted from The Divine Defense by Robert Jeffress, Waterbrook Press, 2006). Used with permission.
Recently on Spiritual Life
Have something to say about this article? Leave your comment via Facebook below!
advertise with us
Example: "Gen 1:1" "John 3" "Moses" "trust"
Advanced Search
Listen to Your Favorite Pastors